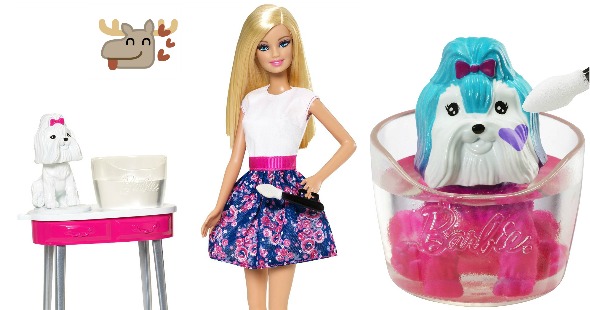 With all these deals, Santa has no excuse this year. The Barbie Colour Me Cute Doll is on sale at Amazon.ca for 60% off the price, which means you will pay just $10. Ten bucks for a Barbie, and it even includes a puppy and accessories?! Why haven't you added this item to your cart yet? Spend $25 to get free shipping.
Barbie and her adorable puppy need you and your child to help them with their amazing transformation! The Barbie Colour Me Cute Doll was originally $24.99, but is now just $10. You can decorate Barbie's top with simple water, and then once it dries you can start allover again. Yes, that means no mess (except whatever mess the water makes). Little girls allover Canada will enjoy creating new and colourful looks with Barbie and her pet puppy. This is the absolute lowest price I have seen on this doll, and other Canadian retailers are selling it for even more than Amazon Canada's original price.
Take a look at the price of this Barbie Colour Me Cute Doll at other Canadian retailers:
$29.99 @ ToysRUs.ca
$29.97 @ Walmart.ca (sold out)
$26.99 @ LondonDrugs.com
Don't worry, your daughter won't be needing your kitchen sink to create colourful designs on Barbie's shirt all the time. This doll comes with a vanity, water basin and a brush. You can even apply the cold water to transform the puppy as well. Because of the small parts included, this particular Barbie doll is best suited for kids ages 3 and up.
Actually, I am a little confused at how the Barbie doll goes back to her plain look. One part of the product description says the colours will disappear when she dries. Another part says to use cold water to design the Barbie and her puppy, and use warm water to erase the designs. I guess you will have to find out when you receive the doll. Either way this toy is pretty awesome for any little girl.
Amazon.ca offers free shipping to your home when you spend $25 or more, so you might want to squeeze in some shopping for yourself or snag some other Christmas gifts while you are at it. You can buy both the Barbie Colour Me Cute Doll and the Barbie Rainbow Hair Doll for $38.99 total right now, if you want to go the Barbie route.
Moosers, do your kids love Barbies?
(Expiry: Unknown)