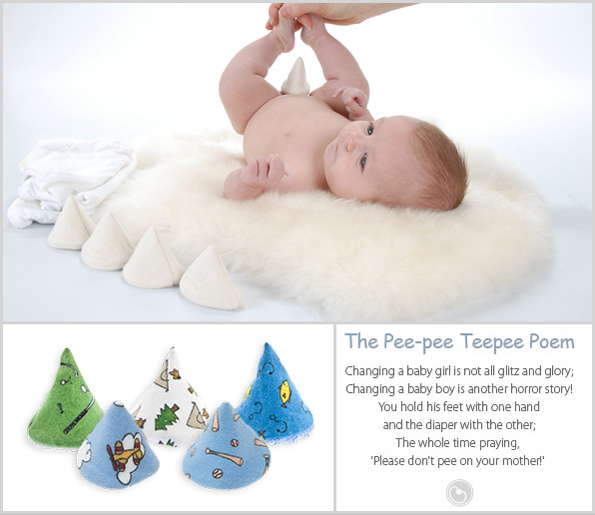 When browsing Amazon.ca, I sometimes stumble on a product which makes me stop and go, "Whhaaaatttt?" That's just what happened when I browsed on to these peepee teepees by Beba Bean designs. For only $9.95 including free shipping, you can buy a pack of five of these little baby accessories!
When you click the above link, you'll be directed to the search page, as you can see there are manyh different colours to choose from in these peepee teepees. Here's a quick line about the product:
A must-have diapering accessory for newborn boys; excellent baby shower gift with guaranteed giggles!
Well, I can certainly imagine the giggles! These items are actually little teepees that you can put over a little baby boy's bits when changing his diaper. They keep you from getting peed on!!
The seller of this item is Beba Bean, and they ship from their base in Vancouver. They also sell Beba Bean products at other retailers around Canada, including Toys R Us here. However, there's no free shipping there so that's what really makes this a super deal on Amazon.ca today.
Now, I've only ever had two little girls and even though I have a couple of handfuls of nephews, I've rarely changed the diaper of a baby boy. I don't know what to do with it!! I've never been peed on in that fashion, but I am sure there are some moms reading this, who have. Bargainmoose author Brooke HAS a toddler boy now, and she claims to have been peed on many times, mainly when the baby was very small. Here's a quote from Brooke about the peepee teepees:
I kept one in my diaper bag and one in my son's room. There's nothing worse than being out somewhere, dressed nice and getting peed on. And it always gets you in the worst spot too! Like down your shirt. These little teepees can just be place on top of your little boy's goods to prevent that whole mess. Total lifesaver!
Tell us in the comments below! Have you been peed on by a little baby boy? Would you use a peepee teepee? Or do you think they're pointless?
(Expires: Unknown)