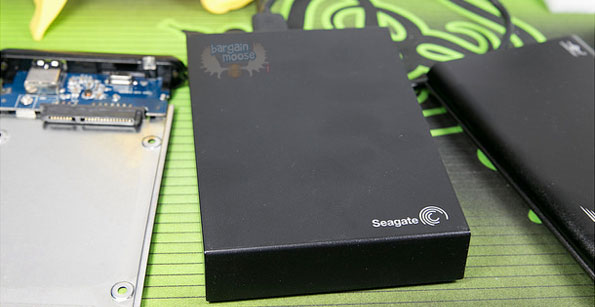 Black Friday may have come and gone quicker than ever this year but if you're still looking for great deal, then I found an awesome one on an external hard drive. Right now, you can get the Seagate Expansion 3.0 external hard drive for just $139.99 at Newegg Canada. It was originally priced at $249.99, which puts it at $100 off (44% off). If you add a $10 or more filler item and use Visa Checkout, then you can also use the Newegg promo code: VCNOV25 to save an additional $25 off your order!
External hard drives are like tubs of ice cream: when you need them the most, they're not there! With this one, however, you won't ever have to worry about running out of space because you can certainly transfer a lot of content with the 5 terabytes of storage. By the way, 5 terabytes (TB) amounts to 5,000 gigabytes. For the average consumer, trust me when I say it's a lot. To give you an idea, a typical HD movie will usually take up about 2-3 GB, if not less but even if you were to transfer one of those 20+ gigabytes movies floating around the interwebs onto this Seagate external hard drive, you would still be more than okay for space.
Surprisingly, shipping is free. It's surprising because nearly everything at Newegg comes with a shipping and it's this fee that sometimes makes it more worth to buy a specific item elsewhere, just to have it shipped for free there. After plugging in my postal code, the checkout section confirmed that my order qualified for free shipping, so I can only hope that it works for you Moosers as well!
You can also choose to protect your external hard drive. Right now, you can pay just $20 for a 3-year protection plan, which would have otherwise cost that much for a 2-year plan.
To give you an idea of the awesomness of Newegg's price for this external hard drive, I had a look around and found this same one for $206.25 at Amazon! Tiger Direct has it on sale for $204.99.
(Image Credit: soujirou)
(Expiry: Unknown)