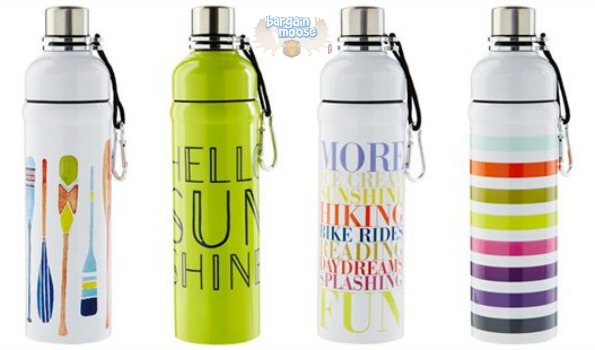 Get hydrated in style with these double wall stainless steel water bottles from Chapters Indigo. Regularly $22, they are on sale for only $10. They are cute and do the job! Get free shipping at $25, so maybe you want to buy three and save even more?
These bottles are 16oz bottles with very cute designs on the outside. It has double wall construction, which is important because that will keep your water cool and will prevent holes from forming when you drop the bottle as I often do. It has a screw-on cap with a hanging loop, which I find better because it gets cleaner than a spout.
I took a look around the web for other stainless steel water bottles and could not find any of this size for this price. Walmart sells the Contigo bottle, which is in itself a different style, but it is also double the price. Well.ca sells a variety of stainless steel water bottles, with the cheapest being about $15.
There are a few styles at this price point, including:
If coffee or tea is more your thing than water, you'll want to check out these very cool Canada Loves Mugs and Travel Mugs. Regularly $12 and now $6 for the mug and $14 and now $7 for the travel mug, these would be great at the cottage, for everyday or to take on a trip across the ocean to show your Canadian pride.
If you are like me, you are missing the lids or the bottles on your favourite water bottles. I have a cupboard full of water bottles I can't use for this reason. I don't understand fully where the lids go and even more where the bottles go, but buying new ones for only $10 seems like a worthy plan. I think these would also make great gift ideas for someone who has everything. It would especially make a great gift for that friend that insists on using disposable water bottles.
If you want to get that cart up to the $25 minimum, don't forget about Chapters Indigo's coupon code this weekend for 15% off regular priced items.
(Expiry: Unknown)