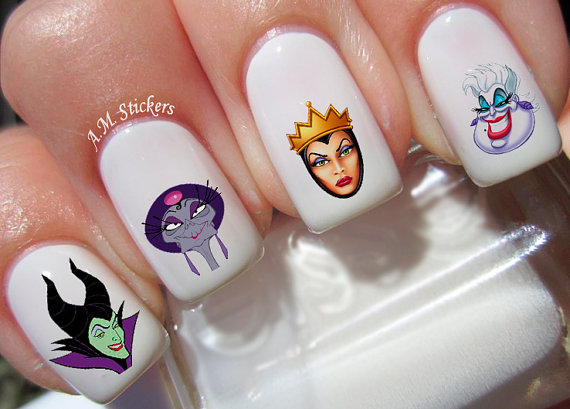 Do you love the female Disney villain characters? Then perhaps you will enjoy these Disney Female Villains Nail Decals which are available on the Etsy Canada website through the seller called AMnails. The 51 Disney Female Villains Nail Decals are just $4.11 CAD plus shipping.
These pretty nail decals are brightly coloured with lots of detail. They are made on high quality decal paper and look to be easy to apply. They can be applied to any type of nail - regular polished, hard gel, acrylic etc. Which works out well. I have hard gel nails and it is actually hard to find nice decals that will work well. I also love the Disney villains so I am excited to receive these particular decals. I ordered a couple more sets as well since the shop gives you a fourth set for free and you can combine shipping costs. Win, win... right?
Actually, AM Nails on Etsy.ca has about 220 different sets of adorable nail decals like this. She has made everything from minions to Disney characters or even pugs that can be used to adorn your nails.
Here are some of the other nail decal sets that caught my attention:
Plus if you buy any 3 sets of nail art in the same purchase, you will get a fourth set for free. The fourth set will be selected by the shop owner. The shop owner suggests that you apply these decals to white polished nails for best results. She also suggests that you apply a top coat to your nails to get the polish and decals to last as long as possible.
These decals are ready to ship in 3-5 business days and shipping from the United States shouldn't take longer than 7 business days, so you may even receive these in time for them to be perfect stocking stuffers. It looks like shipping for this particular pack of nail decals is $4.81. This seller has over 1550 reviews, and still has a five star rating - so I wouldn't be worried about ordering from them atall.
(Expiry: Unknown)