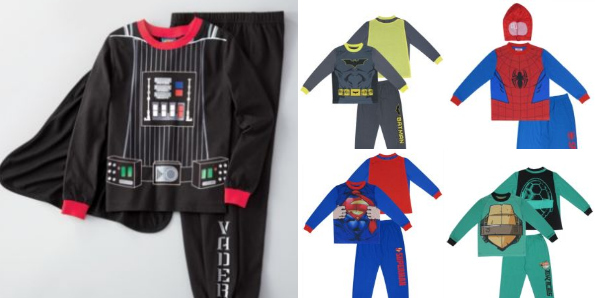 Christmas is coming and Star Wars is coming so this may just be the best holiday season EVER! I could not help but fall in love with this Star Wars Kids' 2-Piece Sleep Set with Cape I found on sale at Sears Canada. Originally $27.99, these pyjamas are now on sale for $13.99! I also found a selection of awesome super hero pyjama sets - all three-piece sets - on sale from $27.99 down to $13.99 as well.
There is that gorgeous $10 off $25 coupon code941612495 - that will give you an extra $10 off if you buy two sets. Thing of that: two sets of awesome pyjamas for your child will cost $17.98! That is $10 less than the retail value of one at full price.
There are four super hero pyjama sets to choose from: Batman, Spiderman, Superman, and a Teenage Mutant Ninja Turtle (TMNT). I think the Batman and Superman pyjama sets will be the most popular. Now, Batman, Superman, and TMNT all come with two different tops and a pair of pants. The Spiderman set comes with a top, a pair of pants, and a mask. In contrast, Star Wars Darth Vader three-piece set comes with pants, a long sleeve top, and a cape.
I think that the Darth Vader costume is the best. I love capes now and I loved capes as a kid so this set really appeals to me. Your child can become Darth Vader in this pyjama set - one of the most awesome villains ever. With the new Star Wars movie coming out, this is bound to be a hit with your child.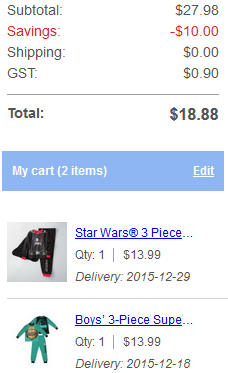 While I prefer Batman out of all the super hero pyjama sets they have, I would probably go for Spiderman instead. I just like the idea of a pyjama set coming with a mask so your child can not only sleep in their pyjamas - they can also pretend play to be Spiderman when they dawn the mask. This is probably why the Star Wars costume is my favourite - a cape is not standard pyjama fair. It is great for pretend play when your child is not sleeping.
Receive free shipping to over 1300 Sears locations across Canada.
(Expiry: 12th December 2015)