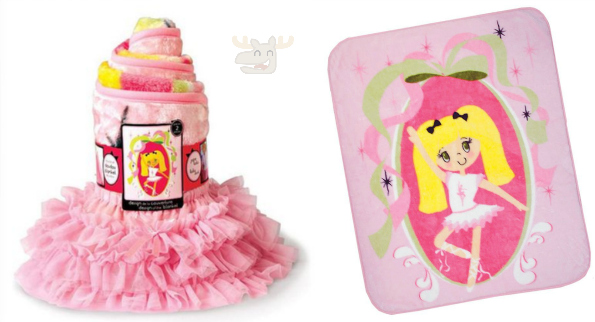 Today only, save 50% on My Friend Huggles 'Lily' Blanket & Tutu Set for your little ballerina. Originally $29.99, this set is now on sale for $14.99. Receive free shipping to over 1300 Sears Stores and Sears Outlet locations across Canada.
This is the ultimate duo of play time and nap time accessories. The tutu is designed to fit most girls ages three through five years old. Given the growth rate of your child, it may fit younger or older girls as well. The tutu has an elasticized waistband and a very ruffled design with plenty of layers of fluff for your child to enjoy.
The blanket matches the tutu and is perfect for nap time. It is made of plush materials so it is cosy to cuddle up under or on top of while napping. The blanket measures 40" by 50" so it will last your little one many years of love. I think this set is pretty cool and it would make a great purchase for Halloween. While the blanket and tutu can be worn at any time, you could use the tutu as part of a costume for Halloween. It would work well if your child wanted to dress up as a ballerina or a princess.
This set is not the only one on sale but it has the highest discount. You can also purchase the My Friend Huggles 'Rubi' Blanket And Tutu Set and the My Friend Huggles 'Mia' Blanket And Tutu Set on sale from $29.99 down to $17.99 each.
As you know, I take original prices with a large grain of salt. I price compared these sets with Costco Canada where they currently retail for $22.99 each. I really like my main deal - the Lily Set - as it is $7 cheaper than the set at Costco Canada. For something at this price, that is a nice savings. The same set also costs $17.10 USD @ Amazon.com (+ $10 import/shipping fees).
I adore these little sets and even the more expensive ones - on sale for $17.99 - are worth the price in my opinion. You still save a good chunk of money off of the regular price at Costco.
(Expiry: unknown)