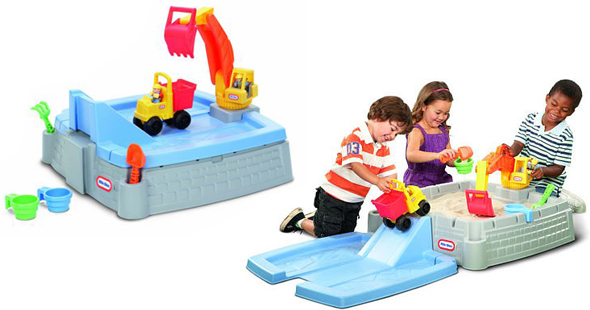 With winter just moving in in most places across the country (with a snowy, freezing cold bang, I might add), Walmart seems intent upon getting us looking forward to spring. As you've seen from previous posts, they've got a few great deals in the Clearance section that will get you all set for outdoor fun as soon as the weather warms up. Well, we've come across another good one! This Little Tikes Big Digger Sandbox looks like so much fun for any little builders out there that like getting their hands dirty (and what kid doesn't love that?). Originally priced at $48.84, you can get it at Walmart.ca for half that -- just $24.
This great sandbox has 70 ratings on Walmart.ca and 66 of them are either 4- or 5-star! That's a pretty solid consensus.
The sand area has molded ramps and roadways. The excavator (where kids can sit one of the included construction characters) actually works and kids can use it to dig in the sand and load the dump truck. The lid for the sandbox keeps the sand clean and dry and doubles as a ramp for the dump truck to slide down. There's more!
The Little Tikes Big Digger Sandbox also comes with 2 character toys, sand cup, sand sifter, shovel, rake as well as the dump truck! Your little ones can use the accessories to build sandcastles, roads, tunnels and anything else they can imagine. The sandbox and ramp are specially designed to lock into place, so there's no need to worry about tiny fingers being pinched. Genius!
The Little Tikes Big Digger Sandbox sells for $59.99 at Sears.ca (where it is out of stock) and $69.59 at Amazon Canada! Get it at Walmart for just $24. That's a 65% savings over Amazon's price. I even found it at American sites for $39.99 US. Reviews of the product are overwhelmingly positive at these other sites, as well. I was surprised to see that this item does qualify for free delivery to your home when included in orders over $50; I expected there to be an extra charge for an overweight/oversize item. Bonus! With all the other incredible Clearance deals that we've been finding, I don't think you'll have any problem reaching the $50 mark for free shipping.
As I said, this is a Clearance item on Walmart.ca so you have to jump on this deal before it sells out! Ready, set, go!
(Expires: Unknown)