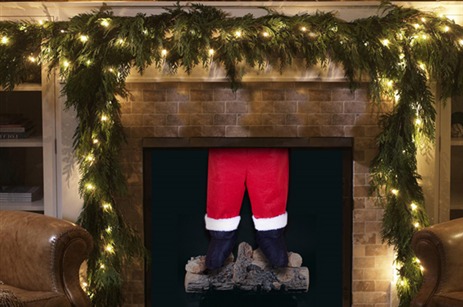 I have seen some pretty cool Christmas decorations, but this one takes the cake. The Santa Boots Decorative Hanger for Windows or Fireplaces is currently on sale for 50% off at ClearPoint Direct, which leaves you paying just $9.99 for this hilariously festive item. Plus thanks to Free Shipping Day, ClearPointDirect.com will even throw in totally free shipping when you apply their coupon code.
I know the photo above shows these Santa Boots in a fireplace, but they are equally adorable hanging in a window as well. They were originally $19.99 and are on sale for 50% off, which makes them yours for just $9.99. The free shipping is a definite bonus as well.
So here's the coupon code to redeem the free shipping discount:
Coupon code: CW151201
Discount: Free shipping
Expiry: Unknown
These Santa Pants easily attach and detach so you can use them for years and years inside your fireplace or in your window. They attach with velcro (hook & loop tape). They are made of a soft fabric with faux fur on the cuffs, and the boots are stuffed to add weight. They are about 20" tall so go measure that fireplace to make sure these decorations will work for your place. Be sure to explain to your kiddos that these are decorations though. The last think you need, is to be woken up at 6 AM with a child screaming that Santa is stuck in the fire place. It would be logical thinking, wouldn't it?
I don't have a fireplace, so I think I would hang these outside my dining room window so guests can see them when they are over for dinner. It will be a good conversation piece and I hope to make several people laugh. I imagine you would attach them on the inside of the window so that they are not damaged by weather. I wish I had a fireplace though, it is definitely the cuter option.
You can check out the other ClearPoint Direct coupon codes in our Bargainmoose forum. There is a code for 20% off, so depending on your purchase that may work out better than free shipping.
Moosers, would you set up one of these adorable decorations?