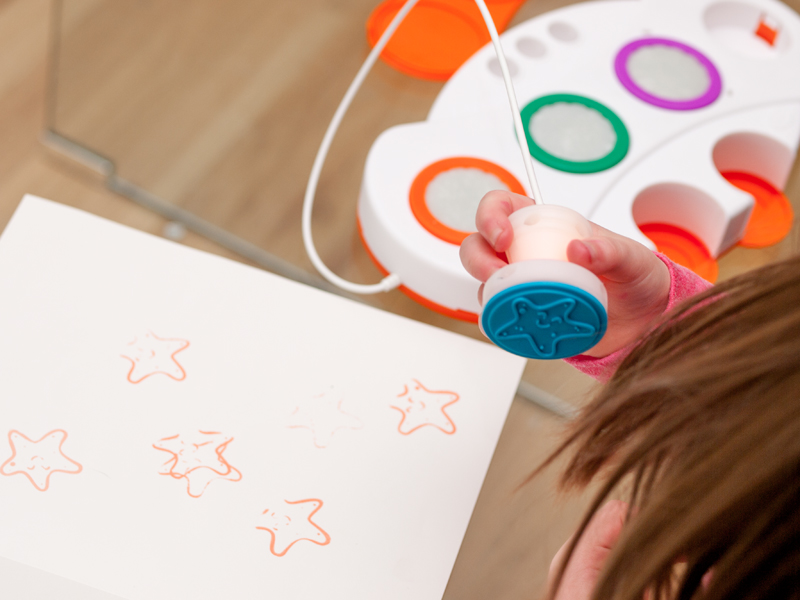 Crayola products always make great Christmas gifts! Right now you can shop at Amazon.ca and get the Crayola Colour Wonder Mess Free Light-Up Stamper for 50% off. That means you will pay just $13.97, and if you spend $25 or more you will also get free shipping. Amazon Prime members get free shipping on this item without spending $25.
Are you ready for your kids to get involved with some magical stamping that is mess free?! The Crayola Colour Wonder Stamper is totally mess free, and totally fun for the kids. The Mess Free Light-Up Stamper will magically know which colour of "ink" your child has chosen. Place the stamper on the green ink pad and the handle will magically light up green. My three year old is going to love playing with this - and I can't wait to see his excitement when I put it under the tree. My, "Santa" snags some good discounts on toys, doesn't he?!
This Crayola Colour Wonder Mess Free Light-Up Stamper is best suited for children between the ages of 3 and 7. It comes with magical paper, so the stamps will literally only show up on that paper and won't get on skin, clothing, walls, furniture and such. If you have other colour wonder markers, they will also work well with this set. I am pretty impressed with these products actually. Sorry Mr. Clean Magic Erasers, you may be out of a job going forward! Since I started buying my son the "mess-free" colouring items by Crayola, I have not had to scrub crayon or ink off anything, so I have not had to purchase the Magic Erasers in months. It is quite nice!
Amazon.ca offers free standard shipping on all orders over $25, so you may want to snag two of these as Christmas gifts for your kids or your friends kids. Unless you have Amazon Prime, then you are eligible for free shipping without spending the minimum of $25. Your friends will appreciate that these are mess-free, and Crayola items are at the top of a lot of Christmas lists this year, so you really can't go wrong. I mean, who doesn't love Crayola products?
(Expiry: Unknown)