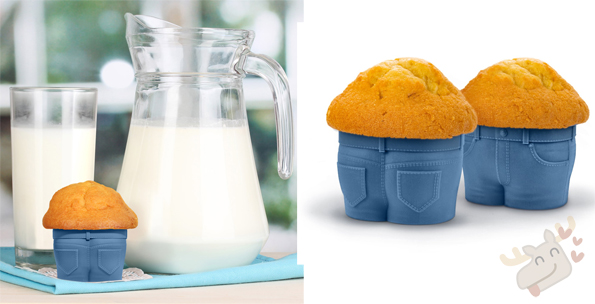 I adore browsing the cookware section on Amazon.ca. I could easily spend a thousand dollars on there, just by browsing and choosing the items I'd love to have in my kitchen. But there are two problems with this. 1. There's no room in my kitchen. 2. My credit card might not take the strain! Instead, I have to be content with finding amazing deals and cool items for the Moosers to contemplate, too. I've found a really cool item today – a set of four Fred and Friends Muffin Top baking cups! You can grab these cute little bad boys for only $15.50 on Amazon.
Aren't these great!? The Fred and Friends Muffin Tops Baking Cups are sold directly from Amazon, so if you have Amazon Prime, then you can get these shipped to you for free right now. If you don't have Prime, then you'd either have to pay shipping… or throw the muffin tops in your cart with some other items, making it up to $25 or more for free super saver shipping to your home. If you're doing that, have a search for other Fred & Friends products – there are some excellent items to choose from!
Reviews
While there are no reviews of the muffin tops on Amazon.ca, there are actually quite a lot on their dot com page, as these products are from a US based manufacturer. The reviews are really positive, with these products achieving a score of 4.5 out of 5. There are also some tips on there as to how to initially wash the product and care for it over the long term. Have a read.
What About Prices Elsewhere?
I did spot these Muffin Tops slightly cheaper here at Toysense.ca coming in at $14.50, but unless you lived locally to their store in Thunder Bay, shipping was at least an extra $14, so this doesn't make sense at all. Danna Bananas has the same ones for $15, but again, shipping is $9.95. Because of the potential for free shipping on Amazon.ca, that definitely makes it the best place to grab these Fred & Friends muffin top baking cups.
I think these would make a cool Christmas gift for an avid baker.
(Expires: unknown)