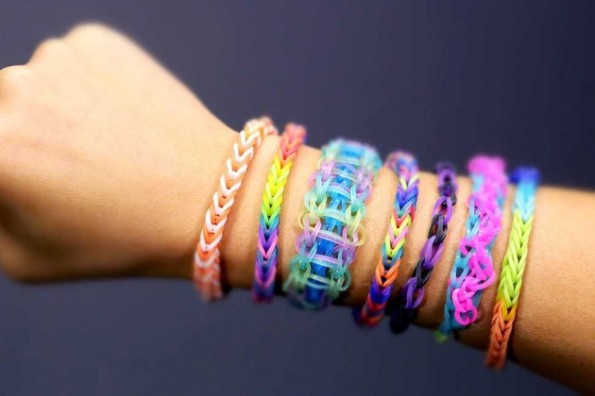 *Bump! This is back again - and all kids love Rainbow Loom*
The Chapters Friends & Family Event is on, so I was having a little browse through their website to see what offers I could enjoy. I stumbled upon this Rainbow Loom Kit which is now 49% off and thought that it was definitely worth a mention to you Moosers. This kit would have originally sold for $18.95, but right now it is on sale for just $9.50. Sure you'll have to spend $25 to get free shipping, but that won't be hard.
When your little one receives this Rainbow Loom, they will be making bracelets and other items for everybody! My nieces made me an adorable little bracelet out of Rainbow Loom Bands and I still have it on the gear shifter of my truck. It has been about two years since they have made it for me, but it has become a sentimental item and I will cling to it for dear life. That being said, I think it is a fabulous idea for any little one to have the Rainbow Loom. They can make everything from bracelets to little figurines, and who knows... maybe that bracelet will become somebody's priceless (and sentimental) item. This also makes a fab Christmas gift if nothing else.
The price on the Rainbow Loom at Chapters Canada is fabulous. Everywhere else is selling this kit for more than half of this current Chapters.Indigo.ca price, so snag it while you can. I mean, where else can you get an awesome kit like this for just $9.50? There are quite a few things included even. Everything your kid needs to get started with Rainbow Loom making is in the box. Here's what is included:
2 looms
metal hook
c-clips
instructions
600+ pieces of Rainbow Loom Bands
There are enough items included to make a whopping 24 bracelets, and Rainbow Loom Bands to refill your little one's stash are more than easy enough to come by. They are quite affordable too, considering. Even reading the reviews on this item should have you sold. It sounds like a win for sure. I can't wait to wrap it up and give it as a Christmas gift this year.
Chapters.Indigo.ca offers free shipping on all orders over $25, so you might want to check out their other Friends & Family promotions to reach that minimum spend. Nobody wants to pay for shipping, right?
(Expiry: Unknown)