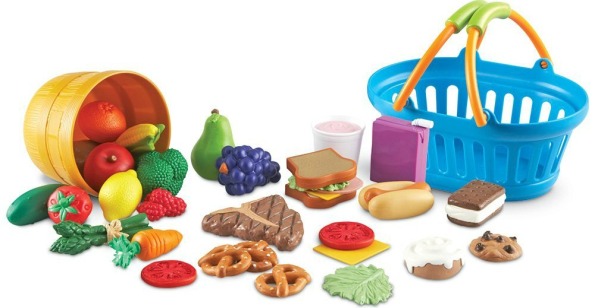 If your kiddo loves pretending to go grocery shopping or loves pretending to cook dinner, then this might just be the perfect Christmas gift. The Learning Resources New Sprouts Deluxe Market Set is on sale at Amazon.ca for 41% off the regular price, which makes it just $29.52. You will also get free shipping.
The Learning Resources New Sprouts Deluxe Market Set is quite the food set for any little boy or girl. It is pretty much complete and you may not have to buy any more than this to keep your little one's food frenzy satisfied. You will be amazed at how many healthy food play options are included. To be exact, there are 32 different items.
The toy food is made of a soft, durable plastic which is great for curious little tots. It also includes a shopping basket and a bushel basket for even more imaginative play. The food items I can see in the picture include fruit, veggies, pretzels, lettuce, tomato, cheese, steak, bread, hot dog, cinnamon roll, cookie, ice cream sandwich, juice box and more. While the description states that they are healthy food options, I would say that the ice cream sandwich, cookie and cinnamon roll are not so healthy. I wouldn't mind though! They are just pretend food, and those types of food are delicious... right?
Learning Resources has so many different food sets available. They are also on sale for much smaller discounts, but you may want to add them to your cart for more fun with the kids. Here are some of the other Learning Resources sets available:
You can combine even more food sets for more fun play with the kids. These items are exceptionally fun if your child has a pretend play kitchen or shopping cart and cash register even. This item is shipped and sold by Amazon.ca, which means you will get free shipping on orders over $25. This item automatically qualifies for that since it is $29.52, and that just makes the deal even sweeter.
(Expiry: Unknown)