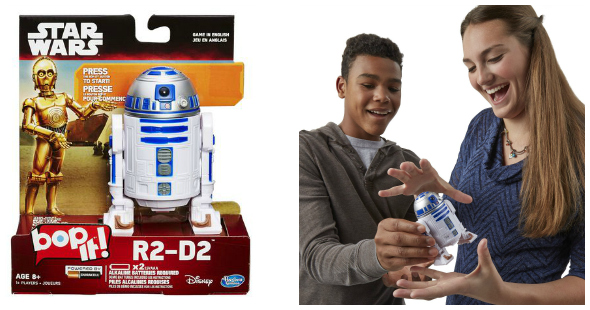 The old adage "everything old is new again" becomes more apparent all the time. From fashion to TV and movie remakes, it all seems to be cyclical. Well, I have come across the perfect blend of current pop culture and nostalgia. Right now Amazon.ca has the Star Wars Bop It game on sale for 40% off, which leaves you paying just $14.97! How cool is that?!
Remember the game Bop It? Originally released almost twenty years ago, the hand-held audio game requires players to follow instructions issued by the toy (e.g. pull handles, twist cranks, spin wheels, flip switches) with the pace of the commands increasing as the game goes along. So, that's Bop It.
Now, have you heard of Star Wars? Perhaps you've been living under that proverbial rock (with fantastic wi-fi) but back in 1977, the very first movie came out, creating an entire subculture since its release. You may have heard that a new Star Wars movie was released recently and has caused a bit of a stir. So many products have been re-made with the movie's branding; including food like apples (it's just a picture on a bag, people! Said apples were not grown in a galaxy far, far away.) and Kraft Dinner!
All this is to say that I've found a fantastic blend of the old and the new for 40% off. Yes, that's right: Star Wars Bop It! Regularly $24.99, it's just $14.97 right now at Amazon Canada.
It wasn't until I was much older that I realized, while Bop It is a fun, interactive game, it's also pretty useful for developing and enhancing certain important skills in kids. Things like reaction time, motor skills and quick decision making all come into play.
Shaped like a miniature R2-D2 from the iconic movies, this version of Bop It commands players in the voice of C3PO. Like all other versions, you have to respond as fast as you can; pulling, twisting and bopping. If you get it right, you get another chance; if not, you're out! The commands come faster and faster the longer the game continues and droid sounds from R2-D2 can be heard throughout. There's Solo Mode or Pass it On for 2 or more players.
Bop It is great for people of all ages (the manufacturer recommends ages 8 and up) and makes for a super-fun family game night. This little guy is perfect for the collector or the new, younger, fans. He requires 2 x AAA batteries but demo batteries are included.
Selling for $24.93 at Walmart, pay just $14.97 at Amazon Canada while this deal lasts and let the fun begin! This item is the same price at ToysRUs.ca, but the free shipping minimum spend is much higher than Amazon.ca. Though if it sells out here first, you can always grab it at Toys R Us Canada.
Amazon Canada orders over $25 ship for free or get free shipping on every order with Amazon Prime.
(Expires: Unknown)