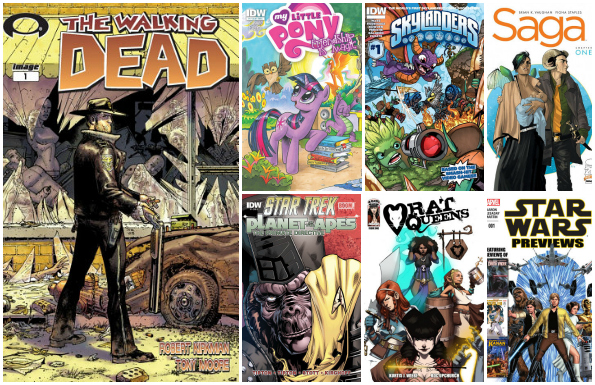 OMG I just had a heart attack! The Google Play store has finally convinced me that I need an account with their newest giveaway! They are offering 39 comic issues for FREE - just download and it is yours to read and keep. This is an amazing way to check out new comics, read different authors, and check out new art.
I am SO impressed with this offer from Google Play. They are offering first issues (#1) of many different comics from an array of genres. If you are not in to comics already, this is a great way to sample what the comic book world has to offer. Not all comics will appeal to all people, so the breadth of style and genre in this free selection will help you choose what kind of comics you enjoy.
I read comics, thus I can make some recommendations. Saga #1 is a must-read in my books as it is truly one of the best series currently out there. It is complicated, complex, and about as sci-fi as I get. I actually do not like sci-fi but I DO enjoy this comic. Another personal choice would be Rat Queens #1. This is another series I collect that is more fantasy based. It is so odd for an all-female adventuring group to be the focus in comics, especially with such divergent personalities!
Kids
There are several great comic freebies for kids in this offer. Try Jem and the Holograms #1 - which is a reboot of an old TV series. For a younger crowd, My Little Pony: Friendship is Magic makes a great read and comes free! Skylanders #1 is the comic version of the hit video game for kids. Both kids and adults will enjoy this mash-up of characters: Teenage Mutant Ninja Turtles/Ghostbusters #1.
Adults
I would be terribly negligent if I did not mention that you can download The Walking Dead #1 - the issue that brought zombies back into vogue. For those who love cross-overs, try Star Trek/Planet of the Apes #1. There are some comics that have more adult content than others, like Grimm Fairy Tales #1.
Some comics are not quite first issues, but rather previews for the comics. I am excited to read Star Wars Previews 1 as I have been interested in the Star Wars comics for some time. This is just a sample of some of the amazing comics you are about to score. Download them all as they are all free!
(Expiry: Unknown)