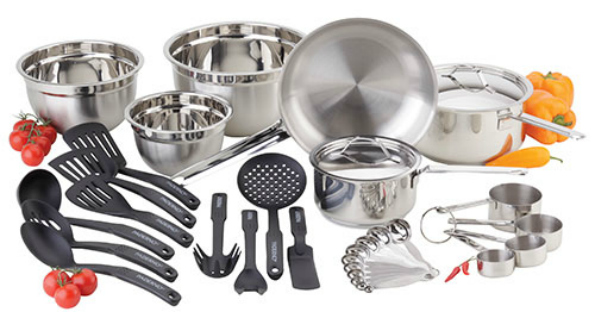 If you are setting up a new kitchen, need to refurbish your own, or sending your kid away to university, then you probably need a brand new kitchen cookware set. Instead of racking up the cost by purchasing individual items to add to a base cookware set, save money with the Paderno ClassIIc Complete Kitchen 32-Piece Cookware Set. Originally $429.99, this cookware set is on sale for $129.99 with free shipping.
I love this deal because it has everything you need to set up or restock a kitchen sorely in need of new cookware. This set of solid 18/10 stainless steel pots and pans is dishwasher and oven safe. The pots and pans have a special heat conducting bottom pad for faster heating and better heat control. The solid weld handles will not come loose or fall off. In your set, you will receive:
(1) 1.5L saucepan
(1) 3L Saucepan
(1) 24cm Frying Pan
(2) Covers
(10) Measuring spoons
(3) Mixing bowls
(4) Measuring cups
(10) Nylon Utensil Set
Paderno is pretty awesome in that they have an exceptional 25-year warranty! If you have problems with the handles, the integrity of the pots and pans, or other issues; merely talk to Paderno and you are sure to have your problem resolved in a timely manner. As per usual, intended abuse (like leaving an empty frying pan on a heated element for hours) is not covered. We all know the rules my lovely Moosers.
As for price comparing, most cookware sets by Paderno are around the $150 mark on steep sale, and even higher. I found this same set at The Shopping Channel for $197.99 + $19.97 shipping = $217.96. When Costco Canada had the set, it had been on sale for as low as $149.99 but I have not seen it below that price before.
Of course, cookware prices tend to be inflated, but this is still a great deal overall. If your pots and pans are so used that you are not sure what their original colour was and if your utensils are melted from use and abuse, then pick up this sweet complete 32 piece kitchen set at Best Buy Canada now.
This is a one day deal only - pick the set up today or miss out.
(Expiry: 12th November 2015)