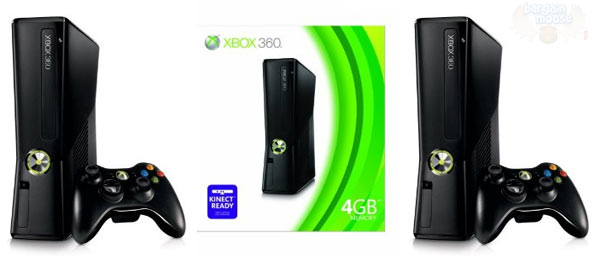 Amazon has another great deal on the xBox 360. If you buy  the console from them, they will send you a $25 credit towards an xBox 360 game purchased and shipped from Amazon.ca.
(We recommend you click the "24 new" link under the price, and choose Amazon.ca, rather than a marketplace seller. The 4GB xBox 360 is currently $198.86 with free shipping.)
My bigoted, Sony fanboy stance on the xBox being an inferior console (don't listen to me, I'm crazy) still stands but these deals are getting really, really tough to ignore.
If I had more time between writing on Bargainmoose, running my website, raising a family, working a full time job, writing my next book and trying to get an audio book production off the ground (Suddenly, I feel very, very tired), I might get 40 minutes a month to game, so getting another console is likely not a good idea. Enough of that though, you are the ones that really matter and you, the consuming public, should jump on this deal!
I don't know what PR shill has been giving presentations to vendors but the deals on xBox 360s are amazing. Even if you don't get this specific deal, you just need to wait a few days, it seems, for another one to come around.
Expires: I don't know but I think it's either very soon or in a week. Either way, jump on it.