241Pizza Deals – Free Printable Coupons! (ON)
This pizza deal is for those of you Bargainmoosers in Ontario. If you're a fan of 241 Pizzas, you might like this printable coupon!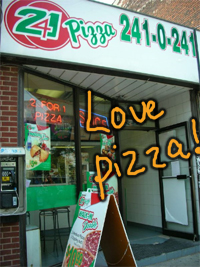 If you want to order online instead, you can do it from their website. Online orders from 241 Pizza are also entered into a contest to win 1 of 24 Sirius satellite radios, Garmin GPS systems or VIP passes for Toronto Motorsports Park Race Cayuga.
Coupon value:
6 cans of coke for $1.99 (Coupon C403)

8 free garlic bread sticks & marinara sauce with any order (Coupon C406)

1lb of potato wedges for only $1.99 (Coupon C409)

4 dipping sauces for only $1.99 (Coupon C412)
All the printable coupons are valid to the 31st of August, 2009!
Sometimes I just get a mega-craving for a bit meat smothered cheesy pizza. I'm not the only one?
Thanks Jenilynn!