Great deal for clothes shoppers tomorrow! For a bit of extra discount at a load of Canadian clothing stores, read on...
The discount you can get depends on what you are buying - 20% off sale merchandise, or 35% off full priced items. It's applicable at all the following stores: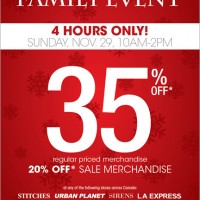 Stitches
Urban Planet
Sirens
LA EXPRESS
Siblings
Bluenotes
Mariposa
Marisa
Suzy Shier
I'm kicking myself as I just bought a new hoodie at Bluenotes this morning. I could have waited until tomorrow and saved a bit of cash!
Excluding Gift Cards & Loyalty Cards. Cannot be combined with any other discount promotion or special offer. Limited time offer. Coupon must be present to be eligible for the Friends & Family discount.