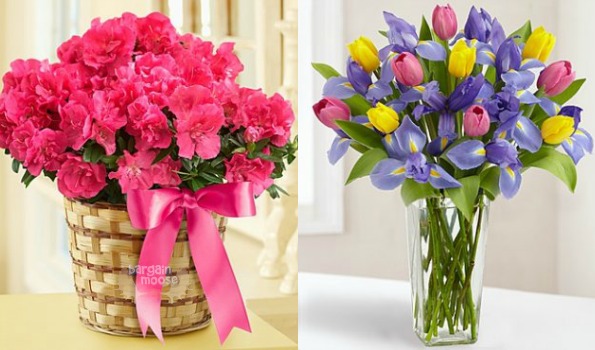 Not to inundate you with Visa Checkout offers, but these offers are seriously smokin'! Just in time for Mother's Day, use Visa Checkout to order your flower arrangement at 1800 Flowers and use the promo code below and you'll be rewarded with a whopping 35% off on your order.
Click here to order your flowers @ 1800flowers.ca now
Coupon Code: VISA35
Discount: 35% off
Expiry: 9th May 2015
You don't have to order the flowers just for Mother's Day. You can order whatever you want for any occasion, but you do have to order by Saturday, when the coupon expires.
1800 Flowers has some really lovely arrangements that I wouldn't mind getting and I'm sure most of us out there wouldn't scoff and a flower delivery to show we are appreciated. As a mom of three boys, I work seriously hard. I love my boys, but they really do keep me up at night worrying about them. I can now appreciate everything my own mother went through with us as kids. I just hope my kid's teen years are much nicer than mine and my brother's were for her! I also hope that our family only stays at one set of stitches whereas my brother probably had about ten different stitch-ups plus a broken leg.
Why does your mom deserve flowers this Mother's Day Moosers? Was it because of that time you threw up all over her new dress? How about the time you took her car for a midnight ride and crashed it? Or could it be that horrible boyfriend you held on to, knowing your parents would hate him (I had a few of those)? Either way, you can spend a lot or a little on flowers at 1800 Flowers, only you know what mom really deserves based on your behaviour! ;) You'll still get 35% off the total, so you can maybe splurge a little more than you are used to.
I am so in love with this gorgeous fanciful tulip and iris bouquet. Tulips are so simple that they are one of my favourite flowers. They go so well with the beautiful purple iris blooms too. Splurging on the deluxe that regularly sells for $64.99, once I've add the coupon and plan to check out with Visa Checkout, my total comes down to $42.24. Shipping depends on the day you send the flowers, as Mother's Day and the Saturday both have a premium. The premium is only $4.99, so if you want mom to be happy on the day, then just spend the extra $5. Your discount will more than pay for your shipping costs and the premium.
If you were watching the other day, you may have purchased the WagJag deal that gave you $40 of flowers for $20. I don't know if this will work with this deal, but there is no harm trying!
So, why does your mom deserve flowers this Mother's Day, Moosers?