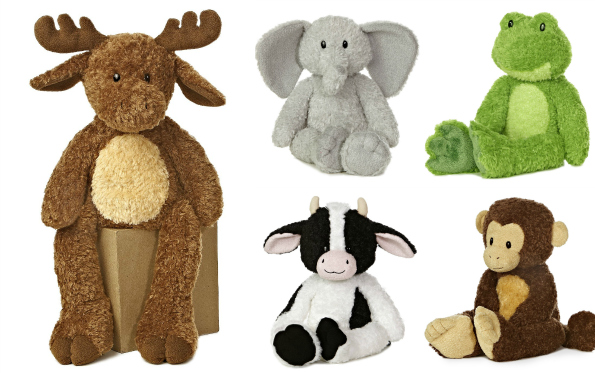 You want a lot of plush for a great price? These Aurora Beanstalk plush animals give you a full 15" of stuffed animal for a great price! There is a selection of these Aurora Beanstalk 15" stuffed animals on sale from $22.99 to under $11 each. Even better, there is one awesome Moose-tacular 20" beanstalk plush on sale from $28.49 down to just $10.66! Quantities are limited.
The best deal hands-down is on the Aurora World Plush Beanstalk Moose, 20-Inch. Originally $28.49, this 20" plush is now on sale for $10.66. This is the largest of the sale beanstalk plush and I chose this one over the 15" because the 15" moose is over $19! You get an extra 5" for way less.
Next we have the 15" Aurora plush animals. This Aurora World Beanstalk Clover Cow, 15-Inch is just as good of a deal at 62% off. Originally $21.99, the clover cow is now on sale for $8.45.
The Aurora World Beanstalk Freddy Frog, 15-Inch was $21.99 and is now $8.46. I have a soft spot in my heart for frogs as I already own a frog plush. This giant boy would be a fantastic addition.
I have a real soft spot for elephants (I own two elephant plush animals), so this  Aurora World Beanstalk Edwin Elephant, 15-Inch would be my first choice. Originally $21.99, this plush is on sale for $9.11.
Lastly, there is the incredibly cute Aurora World Beanstalk Charlie Chimp, 15-Inch on sale from $21.99 down to just $9.51. Even though he is the 'least discounted', his is still 57% off his original price and comes in under $10. For a 15" stuffed animal, you would be hard pressed to find a better deal.
All of these plush toys are great buys and would make amazing Christmas gifts. They are all sold and fulfilled by Amazon Canada, so orders of $25 or more receive free shipping. Or, shipping is free for Prime Members on any order.
Amazon Canada's prices fluctuate OFTEN. I just bought a stuffed animal a few days ago and after my order, the plush jumped 33% in price! The prices listed above are what they cost right now.
(Expiry: Unknown)