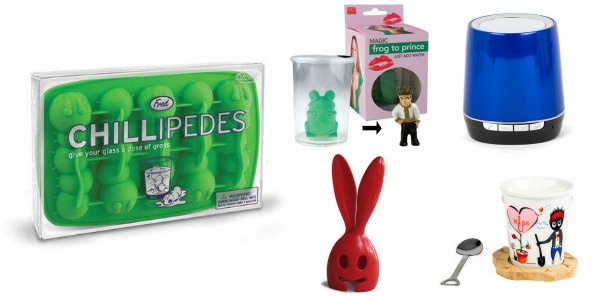 I am delighted to bring you this fantastic deal from 123InkCartridges and all their related companies like PhoneGala, PrimeCables, and more. Today only receive free shipping on all orders when you use the following exclusive coupon code. With items starting from just 10 cents, this deal is sure to tickle the fancy of our Moosers.
Click here to shop @ 123InkCartridges now
Coupon Code: moosefall
Discount: free shipping
Expiry: 21st October 2015 @ 8 PM
There are so many cool items on sale that you just have to check out. I found a selection of coffee mugs on sale from $7.99 down to just $2.99 each. these would make excellent Christmas gifts for friends and lovers. There are three to choose from:
One of my favourite items is also steeply discounted. The Invotis Salad Bunny is a set of salad servers that come together to form a bunny. Feed your bunny salad and she will always be happy! The salad servers come in red. Originally $34.54, they are now on sale for $6.50.
Are you looking for a funky new corkscrew for the holiday season? Then check out FRED ROBOTTLE Corkscrew the wined-up robot. This funky little robot corkscrew was $14.99 and is now $6.75. I think he would make an awesome stocking stuffer for the wine lover in your family.
Since I mentioned 10 cents, I figured I should tell you about the product that is that cheap. This Printer Care fine dust particle filter for Laser Printer, Fax and Photocopiers can be used on a multitude of devices to keep the fine dust particles out. Originally $9.99, it is now on sale for just 10 cents.
I am more excited about deals in the $5 range. With Halloween coming, I figured this FRED® CHILLIPEDES Ice Traywould make an excellent gift. This is an ice mold that spits out bug shaped ice cubes to drop in your drink. Originally $9.99, the mold is now $5.
This DCI® Magic Frog to Prince also sounds really cool. Watch a frog turn into a prince when you dump cold water on him and let him chill for a couple of days. That is a lot better than kissing a frog. Originally $9.99, the frog prince is now $4.99.
If you are in need of a new bluetooth speaker, I highly recommend the current sale on the PhoneGala SpeGO Portable Bluetooth Wireless Speaker. Originally $29.99, this speaker in three different colours is now only $12.99. Averaging a 4.3/5 with over 100 ratings, this is a great speaker for the price.