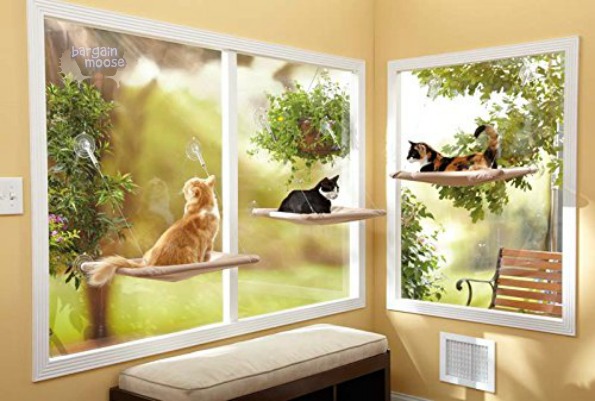 When you love an animal, you truly want to do whatever you can for it to have a nice life. Cats love only a few things in their life - a nice bed, a sunny spot to lay, cat treats (and other delicious food that they'll turn their nose up at then eat) and catnip. I found a fantastic deal at 123Ink Cartridges on the Sunny seat professional window mounted cat bed. Regularly $19.99, it is on sale for $12.99 and we've also got exclusive free shipping just for this item for you. Use the coupon code MOOSECAT to get free shippingand save yourself that extra $4.95.
I am an animal lover and I think it can be one of the hardest things to be. I had to put my 16-year-old cat to sleep yesterday and I'm feeling quite devastated. I wanted to write this post for all the cat lovers who know what I'm going through and want to spoil their pet while they are here.
This item basically provides your cat with everything they want in a sleeping spot. You mount the bed right to the window so they can sit and watch the birds and squirrels, while keeping inside where they are safe. My cat used to make funny chirping noises when he saw birds - it was a hilarious site. He would have loved this cat bed.
I have to laugh at the description that even fat cats can lay there and it will still fit one more cat. I know that is true as cats love tight spaces and will squeeze in where they need to.
Another fantastic thing about this bed is that it has a removable and washable cover, which is important because cats, although clean, can get stinky especially if they have urinary issues.
Amazon sells this bed for double the price at $24.99. Other than that, I didn't see it anywhere else. You should also take a look at the reviews on Amazon, as they give this a solid 4.3 stars out of five with a number of reviews. I love knowing a product that I'm not completely sure of will actually work well, even when it is at such a discount price.
(Expiry: 13th October 2015)