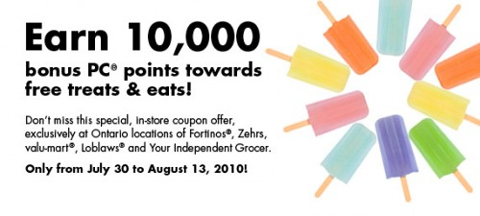 Between the 30th July and the 13th of August 2010, you have the chance of earning a bonus 10,000 President's Choice points, if you are a collector, and you hold a PC credit card.
The page above says that you can pick up a coupon for this offer at the coupon board near the entrance of participating store. According to the advert on the pcpoints.ca website, the coupon works at the following stores:
Loblaws
Independant
Zehrs
Valu-mart
Fortinos
Just grab the coupon in-store, spend $100 on your regular groceries (easy to do), then use the coupon at checkout along with your PC credit card. The 10,000 bonus points are the equivalent of $10 in groceries, on a future purchase.
Any PC points collectors here on Bargainmoose?
(UPDATE - Bargainmooser Alicia tells me that this deal is applicable in Ontario stores only)