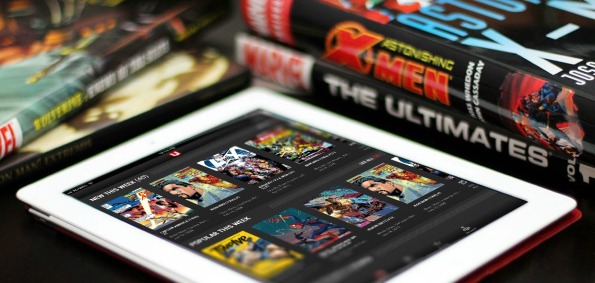 *Bump! This fab offer is back again.*
Marvel is celebrating the upcoming release of the new Star Wars movie. In honour of their new movie, they are offering a FREE month of Marvel Unlimited with the following coupon code. Hurrah! The last time this was available was back in May. So use the Force to get your first month for free!
Click here to sign up for Marvel Unlimited now
Coupon Code: FORCE
Discount: One free month ($9.99 value)
Expiry: 31st December 2015
What you get:
You get access to over 15,000 digital comics spanning the last 75 years from Marvel. This database is enough to keep any comic book lover knee-deep in comics for years. One month worth of free comics is merely a tip of the Marvel iceberg. Are you taking some vacation time in May? Good, you are going to need it.
What you save:
The Marvel month-to-month subscription regularly costs $9.99 so this offer has a $9.99 value. You will need to cancel your subscription before your next billing cycle so you do not get charged the full cost for the next month. As I have mentioned before, you will want to cancel your month-to-month subscription anyway as the annual subscription is a far better price. At $9.99 per year, you would pay $119.88 for an entire year. However, the annual subscription for Marvel Unlimited is only $69 per year of $99 for the 'Plus' annual membership.
The free month is only valid on monthly subscription sign-ups. This offer is open to new and former (now-cancelled) Marvel Unlimited members. A valid payment card is required to redeem this offer, as it is an auto-renewal system.
I have always been tempted by these offers from Mavel Unlimited, but I am generally scared that I will forget that I have a life. I mostly read comics and graphic novels these days. Thus, an unlimited pass to Marvel's archives would be like candy to a diabetic baby.
We have the new Marvel movie Avengers: Age of Ultron to thank for this sweet promotion. Most the Marvel Unlimited promotions in recent past have required a token payment (75¢ or 99¢). Thus, this is a rare deal wherein it requires no payment for your first month.

Have you seen the new Avengers movie yet? I am not planning to see it in theatres as I hear Loki does not make an appearance. While I like the person who plays The Hulk - really I just watched the first movie for Loki.
All prices are in USD. Don't forget to check out the Marvel coupon codes in our Bargainmoose forum.