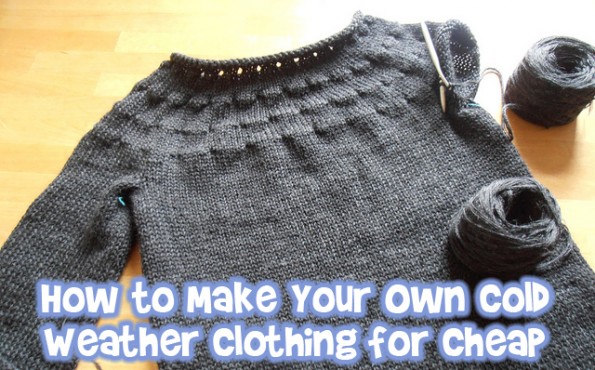 Since the temperature has dropped exponentially in the past week here in Toronto, and I'm a born Vancouverite not used to things like wind chill or snow, scarves, mittens, and every other type of clothing that can keep me warm has been all I can think of! Since I don't own that much winter gear, and I don't really want to spend hundreds of dollars on anything since I'm not sure how long I'll be living here, I've decided to look into ways I can make my own cold weather clothing. Since I also have no clue how to knit and can hardly sew to save my life, I've done a bit of digging to find a number of DIY ideas that are easy to make and won't cost more than a $10 old sweater from the Salvation Army. Here are some of the pieces of clothing I'm hoping to make myself to keep warm this fall and winter.
Handmade Scarf
Luckily you don't need to know how to knit to make your very own, one-of-a-kind scarf. Caitlin of The Coletterie shows you step-by-step how to make a winter warmer cowl that will keep you warm and add a bit of chic to your wardrobe. All you need is a bit of fabric, some pins, a needle and thread, and a pair of scissors to make your own version at home. If you're more of a casual scarf kind of person, then this easy-to-make jersey scarf tutorial found on Craft Loving's blog might be more up your alley.

Handmade Mittens
Do you have a box of old sweaters or sweatshirts taking up room in your attic? Why not upcycle them into a pair of mittens to keep you warm outside? A Beautiful Mess shows you exactly how to convert your old sweater into a pair of almost-new mittens, and A Song of Sixpence explains how your old sweatshirt can easily turn into some cozy hand warmers.

Handmade Poncho
You know when it's so cold outside you just want to wrap yourself in a good blanket? Well, Say Yes to Hoboken can help by showing you how to turn your wool blanket into a fashion-forward poncho. If you can't bear the thought of cutting up one of your favourite blankets, just grab some fleece fabric and a pair of scissors to DIY your own fleece poncho as demonstrated by Mackenzie on We Heart This' blog.

Handmade Leg Warmers
Going back to upcycling your old sweaters and sweatshirts, Fireflies and Jellybeans shows you how to transform a sweater into a pair of enviable leg warmers. Ashley over at The City Birds Nest similarly goes into detail describing how you can turn your old sweatshirt into a pair of leg warmers to add a pop of colour and warmth to your boots.

Handmade Earmuffs
Earmuffs aren't as easy to DIY as a poncho or scarf, however on Squeezing It All In's blog, Heather shows you how you can take an old pair of earmuffs from the thrift store and update them for $3 in only 30 minutes. Otherwise, you can follow Delia of Delia Creates' instructions on how to make some fashionable ear warmers.

Bargainmoosers, what article of cold weather clothing can you not live without? Have you ever made your own fall or winter gear before?
(Image credit: storebukkebruse)