Eyes on Walls: 30% Off Mini Art Block Sets - Now $99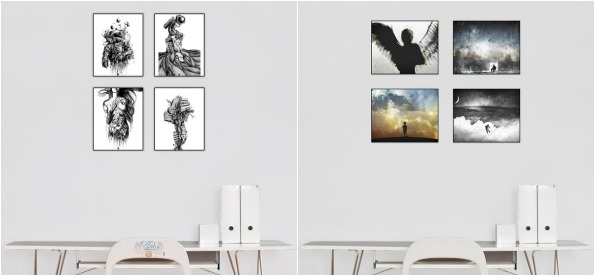 Eyes on Walls Canada is offering sets of four mini art block sets for $99.99. Each art block retails for $34.99, thus four blocks would regularly cost $139.96.
Pick a series from your favourite artist or find a new favourite among the works of art offered. Here are a few of the sets you can choose from during this offer.
This set of four mini art blocks features the Russian painter Lora Zombie. She has developed a world following due to her vibrant style and eclectic designs. This set of four includes art blocks of her paintings Meow, Big Bang Kiss, Rainy, and Red Riding Hood. Both Meow and Red Riding Hood are favourites of mine.
This is my favourite set of all the ones offered. Alex Cherry's style is most akin to my own tastes in art. I love how he works with silhouettes, backgrounds, clouds, and layers of colour with plenty of shades. All of his pieces of art have an ethereal quality to them, and I would really enjoy having them on my walls. This collection includes Heaven In Her Arms, aEnema, Open Your Eyes, and Lost in the World.
This series is very awesome! If you like out of the box art, then PEZ is for you. The way he has graffiti-ed the woman's body in one of his art pieces is beautiful. I also like the fish with the astronaut. This art makes you wonder "what if," which is a very good thing to question. The collection includes Bubbaldrin, 911, Intrinsic, and sTREEt.
There is also one set of art blocks that is only three instead of four pieces. The "Hip Hopengiuns" Series Set of 3 was $104.99 and is now on sale for $79.99. If you like music and like penguins, you might want to click through to view this set.
All mini art blocks measure 10 x 12 inches and are mounted to a 2" deep hand stained black frame. They come ready to hang without any need to frame them. Just grab four nails and a hammer: you are ready to go. Mini art prints are a good way to get the art you like, ready to hang, in smaller sizes so you can enjoy more variety.
Shipping is $8.95 per order no matter what the cost or size of your purchase.
(Expiry: Unknown)