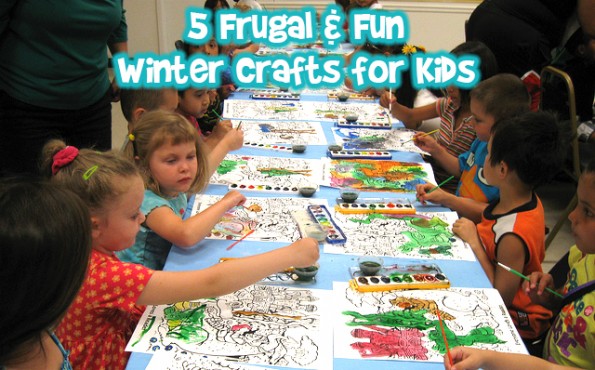 During the lengthy (and chilly) winter months, it can sometimes seem difficult to find new ways to keep your kids entertained when they have to stay indoors. Although a visit to the museum, aquarium, or science centre may seem like the way to go, if you'd like to avoid paying the hefty admission prices, staying inside and making some unique crafts with your family may be a more sensible idea. Since we still have a few more months to go until Spring arrives, here are a few frugal and fun winter crafts you and your family can try out on your next snow day.
Homemade Playdough
Who doesn't love to play with playdough? With this wonderfully simple recipe from The Imagination Tree, you can make your own playdough out of ingredients from your kitchen for virtually pennies on the dollar.

Glow-in-the-Dark Jellyfish
All you need are some paper plates, white yarn, and special acrylic paint to make these cool glow-in-the-dark creatures. Kristin from Craftiments provides step-by-step instructions on how to make the jellyfish crafts. Just make sure place them in bright light for 30 minutes before turning the lights off to see them glow.

Caterpillar Clothespins
If you want a craft that is both simple to make and adorable to play with, these caterpillar clothespins are just what you might be looking for. You may need to make a trip to the dollar store to get some pom poms, googley eyes, glue, and clothespins, but after that you can let your kids go wild. Thanks to Frugal Fantatic for the great idea!

Paper Plate Dream Catcher
A great way to ward off bad dreams, this paper plate dream catcher is also a fantastic craft to keep your kids entertained when it's raining or snowing outside. Full instructions can be found on 4 Crazy Kids' blog.

Paper Bag Puppets
I remember this being one of my favourite crafts as a kid because the number of different puppets you could make was endless. Plus, all you needed to make a whole production of puppets is a few paper bags, some markers or crayons, and some craft paper and glue. Although there are a number of websites with free design ideas to choose from, 86 Lemons provides instructions on how to make animal puppets for everyone to enjoy.

Bargainmoosers, what are your favourite winter crafts to make with your family?
(Image credits: Franklin Park Library, Tim Pierce)