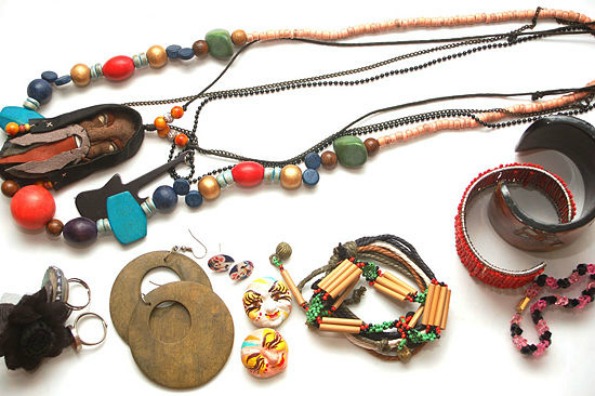 If you are like me, you may be one of those people who constantly loses things, especially earrings since they can easily become misplaced.  Either jewellery gets lost or the jewellery becomes oxidized (for example, silver jewellery).  Once silver becomes oxidized, even at-home polishing often doesn't work.  Therefore, in order to keep the luster from leaving, it makes sense to organize your jewellery in an easy-to-access way without exposing it to too much air.
Here are some do it yourself ways to organize your jewellery that will have you admiring your jewellery collection so much that you won't have to buy any more!  It's amazing what a little organization can do!
#1. Peg Board and Accessories Station

Desiree from The 36th Avenue blog (above) shared a great gift to her husband of 14 years (organization!).  She gives a fantastic tutorial on how you can do this project yourself.  All you need is a peg board, something to frame it with, nail gun (or screws), chicken wire, and some paint. Also a bit of crafty energy!
I loved how there was a frame inside another frame.  She also went all out and made an accessories station but personally I think the peg board is great by itself.  I just love love love the colours together (pale blue and white are always a great combination, in my blue-lover biased opinion).
#2. Wire Jewellery Frame Display

This is probably one of my favourites because it's just so aesthetically pleasing and so simple to do (I like simple).  I'll likely try and make this one myself out of all of these brilliant ideas shared in this post. The wire jewellery frame display is from the Calico Skies blog (above) and she created it on a 52 week challenge (one crafty project per week).  Amazing, but I would never find the time to do that!  One project per season or year is good enough for me. I also love how it looks like you could probably whip this up in under an hour, provided that you don't staple your finger down.
To make this all you need is a vintage frame, wire cutters, wire mesh, frame hangers, and a staple gun.  I love how elegant it looks.  It's handy because it will look great propped up on top of a dresser, or even hung up on the wall.  I would probably hang this up inside my closet door.
#3. DIY Burlap Jewellery Organizer

This do it yourself burlap jewellery organizer is tres chic as well and looks very easy to make.  The Making The World Cuter Blog (above) shares this idea. The great thing about this one is that you can also hang up your necklaces and bracelets.  You can use buttons and put them in a little satin mesh bag to store your smaller non-hook earrings.  The only thing that you want to make sure you have is heavy duty wire so that the bracelets and necklaces don't all jumble up together in the centre.
All you need for this one is some burlap material, a black frame, a regular stapler (or a staple gun if you have one), and some heavy duty wire.  When you use the regular stapler, you can just staple the wire to the back of the burlap material.  This is probably my contender number two just because its so versatile and also looks very nice and is easy to make.
#4. Lace Jewellery Organizer

If you want to pump up the girly-factor and want a jewellery organizer that encompasses lace into the design, this jewellery organizer shared by the Mr. Kate blog (above) is super cute and really easy to make as well.  To make this jewellery organizer, all you need is an empty frame, lace ribbon, strong glue or a staple gun, and a hammer and nail to secure it on your wall.
All you need to do is to glue the lace on the frame and hang it up.  Et voila you have a super chic jewellery organizer that can hold hook earrings, stud earrings, bracelets, and even necklaces.  Very versatile and very pretty!
There you have it -- four super easy ways you can organize your jewellery so that it's not one big mess on a jewellery tray.
Bargainmoosers, which one is your favourite?