Well.ca: Save on Green Bundles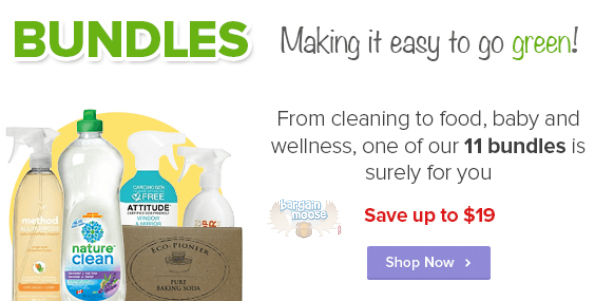 Well.ca has bundled up all natural items into green bundles and has them discounted to save you money.
Some of the bundles are only 10 - 15% off but I weeded through the pack to find the best priced bundles for you.
This Family Favourites Bundle was $38.24 and is now only $26. The bundle includes Annie's Homegrown Organic Cheddar Bunnies, Annie's Homegrown Classic Mac & Cheese, Simply Delish Natural Strawberry Jel Dessert, Florida's Natural Au'Some Organic Fruit Nuggets, Smooze Coconut + Mango Fruit Ice, and MaraNatha Creamy Almond Butter with Sea Salt. It is a really easy way to try out a bunch of all natural food items. I have tried the Annie's classic Mac & Cheese and it is a really good alternative to KD for those trying to go natural.
This Natural Suncare Bundle is also an excellent buy as you are saving around 33%. Originally $59.45, the bundle is on sale for $40. It includes Weleda Skin Food, Jason Soothing 98% Aloe Vera Gel, Dr. Bronner's Pure Castile Bar Soap, Green Beaver Non-whitening Lip Moisturizer, Goddess Garden Sunny Body Natural Sunscreen , and Badger After Sun Balm. Summer is coming so now is the time to stock up on sun protection.
There are nine other bundles to choose from including popular brands like Method.
Get free shipping on orders of $25 or more.
(Expiry: 27th April 2014)