Well.ca: Healthy Home Bundle Only $20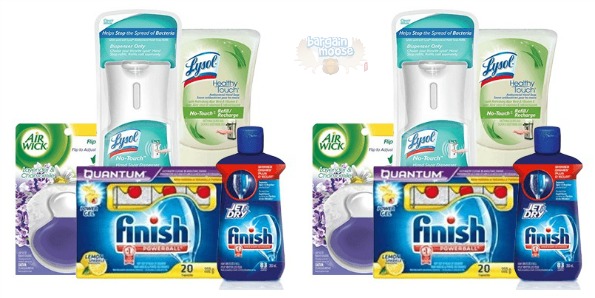 Well.ca has a fantastic deal on a cleaning bundle for your home right now. The bundle is only $19.99 ($20.49 for some provinces) and if you bought it separate, you would pay $37.15, saving yourself over $17 by buying the bundle.
You will get a lot of fun goodies in this bundle. OK, maybe they aren't fun, but they are probably necessities. In this bundle you get:
Finish Quantum dishwasher tabs (20 tabs)
Air Wick Flip & Fresh
Lysol no touch hand soap dispenser
Lysol no touch hand soap refill
Finish Jet Dry rinse agent
The bundle seems like it is geared to washing your washing your dishes and your hands. I use Finish tabs in my dishwasher daily, sometimes twice daily. I didn't always use them and used to use the tabs that are liquid inside a plastic pouch. This was until my dishwasher malfunctioned because those little pouches don't always melt. The dishwasher technician suggested Finish tabs and I haven't had any trouble since. These tabs are not cheap to buy and Walmart sells them for over $7 for the 20 tabs.
The other item in this bundle that greatly interests me is the no touch hand dispenser. My kids need to wash their hands 20 times a day and if their hands are already dirty, you can guess that whatever is all over their hands will end up on the soap bottle. When I go to wash my hands, they get dirty just putting the soap on. This no touch unit makes so much sense. Again at Walmart, the dispenser and soap together sell for $15. So, just this plus the dishwasher tabs are worth getting this bundle for. The air freshener and rinse agent are almost a bonus.
Well.ca ships for free on a $25 spend, so it would be worth your while to see whatever sales are on so you can spend another $5 and get your order shipped free.
(Expiry: 15th June 2014)