Well.ca: Free Samples are Back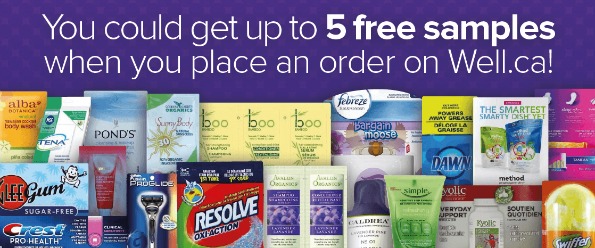 It has been a while now since Well.ca has offered free samples with your purchases but it is finally back.  Get up to five free samples with your purchases for a limited time only.
Here is how it will work:
1 free sample with your order of $40 or more
3 free samples with your order of $60 or more
5 free samples with your order of $80 or more
You will be able to choose these free samples from a list.  They are great because it allows you to try out new products in small quantities for free without having to purchase them.  If you don't like them, no skin off your back because they were free!
Usually the free samples last for the entire month but they are not advertising it that way this time.  This time they are saying while supplies last so if you want your free samples, it is best to shop sooner rather than later.
There are a ton of new weekly sales and clearance sales to pair with this coupon code.
As an added bonus, you can use the exclusive Well.ca coupon JULYMOOSE10 to save $10 on your order when you spend $40 or more.
Well.ca offers free shipping for orders of $25 or more.
(Expiry: Unknown)