Urban Decay Gwen Stefani Limited Edition Eyeshadow Palette W/15 Shades, $47, Retail Value $70 @ Urban Decay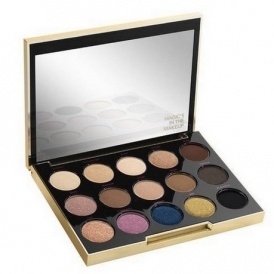 I'm a fan of cosmetics palettes that are well put together, and Urban Decay has outdone themselves this time with the introduction of a limited edition of Gwen Stefani's Eyeshadow Palette. With 15 assorted shades ranging from neutral hues, to an entire row of jewel toned colors that totally pop, you will ADORE this collection as your go-to palette for your eyes, again and again. It will be fun to play around with the palette to achieve Gwen's iconic look!
The Gwen Stefani eyeshadow palette is available for only $47. The regular retail value is $70 so you are saving 33% off.
I have a couple of Urban Decay's eyeshadows and they are long wearing. One of the most important things to me as well is how smoothly/evenly eyeshadows adhere when applied... this eyeshadow has enough pigment to it that you don't have to keep dipping back in to perfect your look. It applies evenly over the skin without clinging harshly over any eye areas of dry skin the way other eyeshadows can sometimes do.
As Urban Decay states, "Each Eyeshadow in this palette features our Pigment Infusion System™, the proprietary blend of ingredients that gives every shade its velvety texture, rich color, serious staying power and blendability."

You will probably want to head over there and check it out!
What you waiting
What you waiting
What you waiting
What you waiting
What you waiting for!?
If you add on this Gwen Stefani Lipstick (2 shades to choose from, Plaid, or Phone Call) for only $14 more, you will receive the eyeshadow palette and lipstick for $61 total including free shipping, compared to the Gwen Stefani eyeshadow palette solely and paying for shipping, for a total of $54.95.

Shipping is free on orders over $50, otherwise is $7.95.
(Deal expiry: While supplies last.)