Trade Optimum Points For Up To $300 @ Murale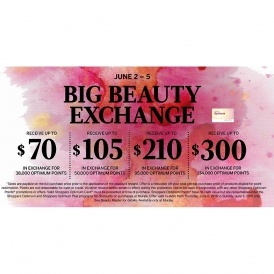 Cosmetic lovers, rejoice! Murale by Shoppers Drug Mart Canada is having their Big Beauty Exchange from now until June 5th, 2016. You can receive up to $300 in exchange or Optimum Points - which could definitely revamp your entire makeup collection and more!
I knew I had been holding onto my Shoppers Optimum Points for something! I was tempted to trade them in for PC Plus Points, but this works out even better. Right now you can redeem your Shoppers Optimum Points for up to $300 in the Murale Shoppers Drug Mart Boutique.
Here are the redemption options available during this event:
Receive up to $70 in exchange for 38,000 Shoppers Optimum Points
Receive up to $105

in exchange for 50,000 Shoppers Optimum Points

Receive up to $210

in exchange for 95,000 Shoppers Optimum Points

Receive up to $300

in exchange for 134,000 Shoppers Optimum Points
The catch, is that this offer is valid in store only. Plus - taxes are payable on the full price purchase. So that means if you buy $500 worth - you are paying taxes for that $500 worth even after you receive any discounts or redemptions.
There are Murale locations in Calgary, Edmonton, Montreal, Vancouver and Toronto.
(Expiry: 5th June 2016)