Tot Tutors 2-In-1 Construction Table & Chairs Set Was $80 | Now $35 @ London Drugs Canada *BUMP!*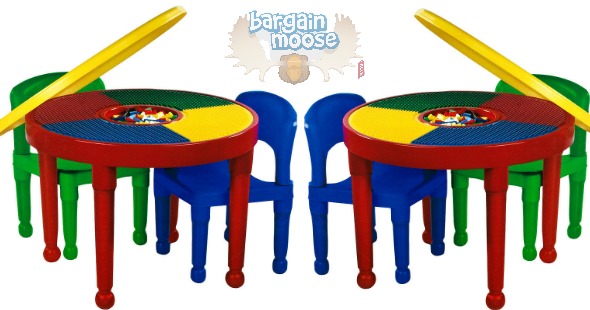 *BUMP! This awesome little table is back in stock*
I was just saying to my friend that I was looking for a kid table to put in the living room for my son who is two and a half. Here you have it. The Tot Tutors 2-in-1 Construction Table and Chairs Set is on sale from $80 down to just $34.99 at London Drugs Canada right now.
The Tot Tutors 2-in-1 Construction Table and Chairs Set is a perfect set up for kiddos with a creative mind. This table & chair set is perfect for reading, eating on, drawing, or building Lego. It has a flat cover for drawing or eating but once you take the cover off you reveal the true wonder of this table that your kids will love. This table is conveniently built with ridges perfect for building Lego. There is nothing more frustrating than your Lego masterpiece constantly moving and slipping away from you while you try to add more pieces. That won't happen again with this table. You can even store some Lego pieces in the middle of the table. This Tot Tutors table & chair set is on sale from $80 down to $34.99 for a limited time, or while quantities last, at London Drugs Canada. This is by far the best price around for this table and chairs set. Here is a look at what other Canadian retailers are selling this set for:
The chairs fit perfectly under the table which provides a compact design if you're trying to find a table and chairs for your kiddo but only have a small space to work with. The description says that it is even easy to tidy up - but I don't find anything easy to tidy up with a toddler running around. I always wonder how sturdy child chairs are. Will my son make it fall when he pushes backwards before he gets up? I would like to see my son sit in it before making the purchase, and unfortunately there is no London Drugs location near me. You can get it shipped to you though. While LondonDrugs.com has a high minimum purchase threshold of $200 to get free shipping, standard shipping will only cost you $9.95. If you do have a London Drugs near you, you can opt for free in-store pick up as well.
(Expiry: Unknown)