Topbox: Limited Edition FLARE Mani-Pedi Kit - Only $25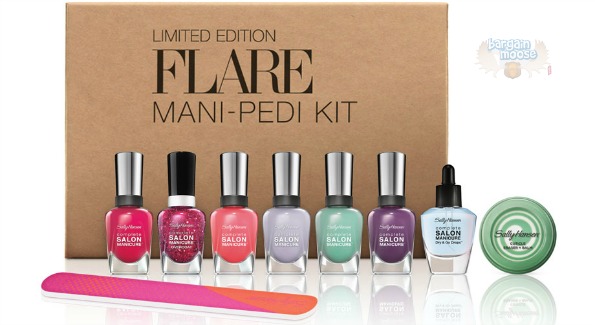 I blogged about Topbox.ca for the first time a couple days ago, and they have another limited edition kit I wanted to mention. The FLARE Mani-Pedi Kit is only $25 and comes with free shipping. You do not need to be a subscriber to purchase this kit.
Oddly enough, Topbox does not give the retail value of this box. So I had to run around and do a little price comparing myself. First of all, the box includes the following:
Six full sized quick-dry polishes: Tickle Me Pink, Trouble Maker, Get Juiced, I Lilac You, Strawberry Shields, and Jaded
Cuticle Eraser and Balm
Dry and Go Drops Top Coat
A nail file
12-issue subscription to FLARE magazine - a $12.95 value
What you are getting is the Sally Hansen Salon line of products. This nail polish retails for $7.99 a bottle at Well.ca as does the top coat. I couldn't find the exact cuticle cream pictured, but a different one by the same company costs $6.99. So the approximate value of this kit is $63 excluding the magazine subscription (or $76 total value including the subscription). I think you are getting a pretty nice deal.
(Expiry: unknown)