TopBox Canada: Limited Ed. LOULOU 10th Anniversary Collection - $35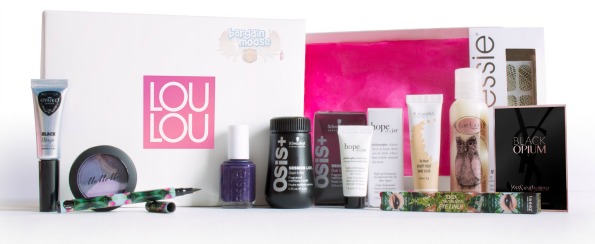 TopBox Canada has released a new Limited Edition LOULOU 10th Anniversary Collection box for just $35 with free shipping. All boxes are shipped on the 15th of October 2014.
The box includes the following items. I have done a bunch of research and tried to find a monetary value for each full size item:
B. Kamins Bio-Maple Maple Sugar Body Scrub (12 g)
Barefoot Venus Pink Pepper Green Tea Cleanser (60 mL – full size) - $5.50
essie sleek stick (full size) - $12.99
essie Under The Twilight nail lacquer (full size) - $7.70
Eyeko Black Magic Mascara (4 mL)
MeMeMe - Elegant Eyes Eyeshadow Trio (full size) - $9.98
OSiS+ Session Label Dust It Flex Mattifying Powder (10 g)
philosophy hope in a jar moisturizer for all skin types (7 mL)
Teeez Easy On The Eyes Eyeliner - Black (full size) - $20
Yves Saint Laurent Black Opium Eau De Parfum (1.5 mL)
You will also receive a four issue print magazine subscription or a 12-issue digital magazine subscription that can be gifted.
Even if we just add up the five full sized items I found, you would be paying $56.17 for just them. That totally excludes the other five deluxe samples you are getting out of this kit that most certainly have value. That is why these kits are awesome, you are saving a bundle and you get to try some new products and have a lot of fun while doing so.
While I was researching the prices for the full sized items, I ran across a reoccurring theme: these items are stupid difficult to get in Canada. While essie isn't too bad and Barefoot Venus is actually made in Canada, brands like MeMeMe and Teeez are impossible to find on this continent. Thus, their prices are actually converted over from the currency I found them in. For MeMeMe, I found it in England and Teeez I found in the United States. While this may deter some buyers, the rarity of these brands in Canada peaks my interest. I love to own things that are different from anyone else!
One of the samples is also driving me wild, so if you do not like it send it my way! I have long wanted to try Yves Saint Laurent Black Opium Eau De Parfum! The Opium scent is a classic and I am eager to experience the subtle differences between the original and the newer Black Opium. I expect this perfume to be delightful.
(Expiry: Unknown)