Tip: How To Double Your Optimum Points @ Shoppers Drug Mart!
I've got a little tip for you if you are a frequent buyer @ Shopper's Drug Mart Canada, and you collect points with their Shoppers Optimum Card. This is a really easy way to get DOUBLE the points on all your purchases, which you may not be aware of.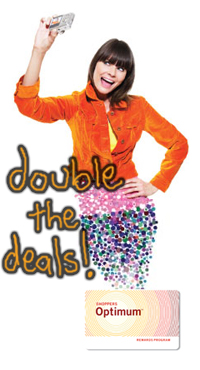 Here's how:
Buy

Shoppers Drug Mart gift cards in-store

. You get Shoppers DrugMart optimum points on the purchase.
When buying items, use your gift card to pay, and you get the Optimum points again.
Simple as pie!
Let's put that into an example. Say you buy a $50 Shoppers pharmacy gift card, you'd get 10 Optimum points for every dollar spent, so that's a total of 500 points. Then if you make a $50 purchase, that's another 500 bonus points. That makes a total of 1000 Shoppers Optimum points, where you'd only have received 500.
This deal doesn't take into account the special promos that Shopper Drug Mart do from time to time, such as 5x points days, or 10x points. Keep your eyes out for one of those to really get a great deal!
I've checked the T&Cs on the ShoppersDrugMart website, and this appears to be well within them. Also, it's been reported on other forums that this works very well. NOTE – it doesn't apply to electronic gift cards, only those in-store @ Shoppers.