THREE Free Makeup Brushes ($60 Value) - Just Pay Shipping @ My Makeup Brush Set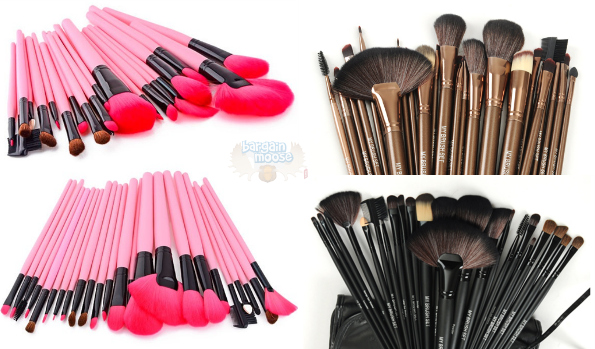 My Makeup Brush Set has so many deals on right now that I do not know where to start! First, they currently offer up to 95% off makeup brushes. On top of that, we have an exclusive coupon code for $3 off your order with no minimum. I found some Eye Liner brushes on sale from $20 down to just $1 each! With this coupon code, you can receive three brushes for free: just pay shipping.
Click here to view the eye liner brushes @ My Makeup Brush Set now
Click here to shop all brushes & cosmetics @ My Makeup Brush Set now
Coupon code: 5OFFMOOSE
Discount: $3 off order
Expiry: Unknown
I know that not many people need three eyeliner brushes but almost every girl needs one. You can keep another for backup and give another to a friend. Funny enough, there are three different colours to choose from: pink, bronze, and brown. I stuck one of each in my cart and this is how it looked: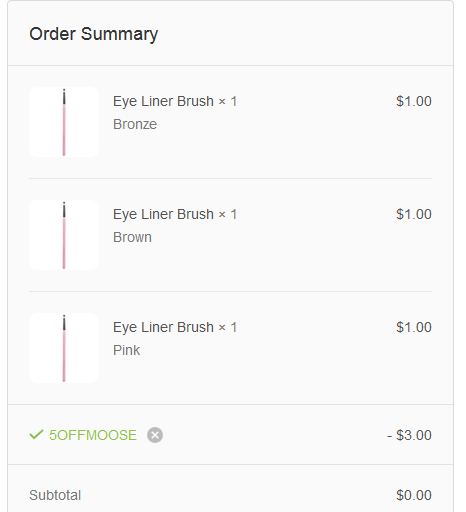 Given that each brush is worth $20 for a grand total of $60 - I think this is a pretty sweet deal. The free shipping minimum is rather high, $100. When I demoed a cart, the shipping cost for these three brushes was $7.45. That is well worth it for $60 worth of brushes. Shipping might be cheaper in larger metropolitan areas.
You also have the choice of purchasing a single product. I only use foundation on my face so this Foundation Brush on sale from $20 to $3 would be my first choice. I would just pay the shipping for the brush.
My Makeup Brush Set sells cosmetics and tools as well. You can use this coupon to receive an extra discount on larger products. This My-Nude Color Palette was $54 and is on sale for $14.99. After coupon code, the palette would come down to $11.99 (if this were the only thing you purchased).
I am very interested in a small brush set to take with me when I travel. This Mini 4 Piece Bamboo Brush Set was $29.99 and is now on sale for $6.99 after coupon. This would be the set I would pick because bamboo grows fast and the fibers used are natural. This set includes:
Complexion Brush
Concealer Brush
Blending Eye Brush
Mini Kabuki Brush
Brush Bag
I have always wanted a kabuki brush!
This is a fantastic deal that I am very excited about sharing with you. For this exclusive coupon code and others, please visit the forum.