The Body Shop Canada: Mix & Match Buy 3 Get 3 Free, Buy 2 Get 1 Free (Expired)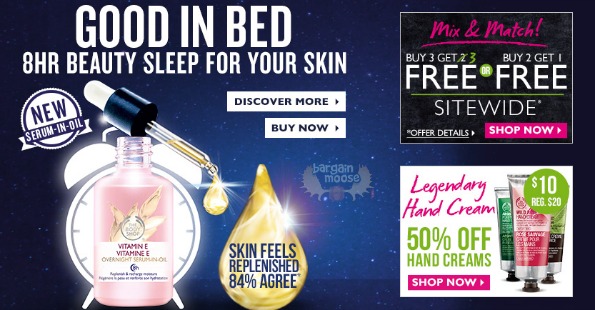 For just a couple of days, The Body Shop Canada has one of their greatest deals back on.  Buy 3 items and get 3 free or but 2 items and get 2 free with their Mix & Match event happening right now.
There is some fine print for this deal:
Offer excludes Moisture White products, 100ml Hand Creams, pre-packaged gift sets, kits, Outlet items, charitable items and purchases of gift cards and LOVE YOUR BODY™ membership cards. Discount taken on lowest-priced items. Returned items will be refunded at the discounted price.
The reason it excludes the hand creams is because they are already discounted 50% off so you will get a deal either way.
I like to take advantage of these events by purchasing more expensive items so I get the more expensive ones free.  For example, I love their body butter (as I have mentioned many times before), I would grab four different body butters and that would normally cost me $80. With this deal, I only pay for the first two items and will get the second two items for free.  Instead of paying the full price of $80, I pay just $40! That is a savings of 50%. If I were to buy six of them, I would pay just $60 instead of the full price of $120.
Keep in mind, my example was all the same products but this deal will work on a mix and match of products.  The lower priced items will be the one getting the discount.  That is why when I do deals like this, I go for all big items so that I save more and get my money's worth.
You will get free shipping for all orders of $75 or more.  If you are spending less, there is a flat rate shipping fee of $5 on orders of $50 or more.
(Expiry: 30th March 2014)