The Body Shop Canada: Entire Store B2G1 Free or B1G1 50% Off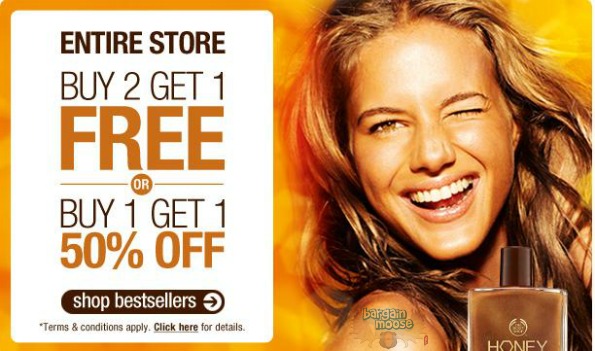 The Body Shop Canada has one of their great deals back on right now until 29th April 2012.  The entire store is buy 2 get 1 free or buy 1 get 1 50% off.
Here is the fine print for this deal:
Offer excludes the purchase of 100ml hand creams, gift cards, pre-made gifts, LOVE YOUR BODY™ membership cards, and charity items. The Offer cannot be combined with any other offers, discounts or coupons, with the exception of SPC or LOVE YOUR BODY membership discounts. Both offers you will pay for the higher priced items and will get the lower priced item for free or 50% off
Like I have said before, I always wait for deals like this to shop at the Body Shop Canada because you will get the most out of your money.  I am glad they have another one before Mother's Day so that I can stock up on a few favorites for mom.  These products would also be good to add to an Easter basket for a little girl. I remember feeling so grown up when I got presents like this when I was younger!
It's a shame that there are no active Body Shop coupon codes that we can use with this deal.
(Expiry: 29th April 2012)