The Body Shop Canada Coupon Code: Exclusive $10 Off Orders Over $20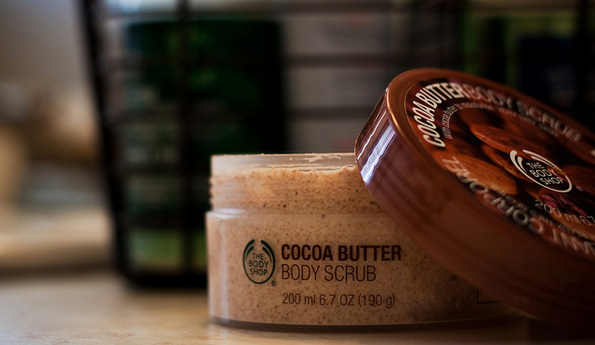 Ready for amazing savings? Shop at The Body Shop Canada right now for a chance to save up to 70% off plenty of products! Plus, use our Bargainmoose exclusive code to save an additional $10 off when you spend a minimum of $20! Savings on top of savings: it can't get better than that!
Click here to shop @ TheBodyShop.ca
Coupon Code: BARGAINMOOSE
Discount: $10 off orders $20+
Expiry: 14th June 2014
Although the cocoa butter body scrub featured on the picture above isn't on sale and is currently at its regular price of $20, it's still one that I would really recommend. I bought it the other day and have been really pleased with how much softer my hands have become as it's specially made for dryer skin. As a word of warning though, its chocolate scent may not be for everyone. So if you don't want to be tempted by the smell of chocolate on your hands, then be sure to check out the selection of body butter that you can get for just $10 (reg. $20). There are a couple to choose from but some that I would want to try are: Brazil nut, Japanese cherry blossom and limited edition passion fruit.
You can also get natural lip sticks on sale for just $2 (reg. $6), which is close to 70% off. They're roll-on and come in either: berry, coconut, mint, orange or rose. According to the reviews though, these should be dubbed lip glosses instead:
If you're looking for shine, a big YES. If you're looking for moisturizing, no. I really like the scent. Works well over lipstick colours. I liked that it had natural ingredients.
If you want even more bang for your buck, then the jumbo shower gels are definitely worth it as they're on sale for $10 (reg. $20). A regular 250ml bottle of Satsuma shower gel, for instance, is $9 but if you get the jumbo 750ml one, then it's just $1 more. Even at its regular price of $20, the jumbo bottle is still a better deal.
To have your order shipped for free, make sure to shop for over $75. Otherwise, a $7.95 shipping charge will apply for orders under $50 and a $5 charge for orders over that mark.
(Image Credit: Nomadic Lass)