The Body Shop Canada: B3G3 Free or B2G2 Free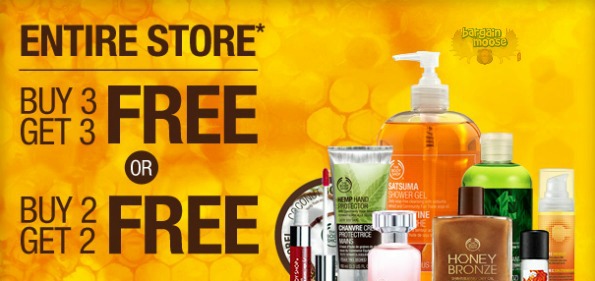 The best Body Shop Canada sale is back on for 2 days only.  They have brought back their buy 3 get 3 free or buy 2 get 2 free sale on June 21st and 22nd only.
Here is the fine print for this deal:
The Buy 3 Get 3Free, Buy 2 Get 2 Free, entitles Customers to (a) purchase any three products and receive three products of equal or lesser value for free or (b) purchase any two products and receive two products of equal or lesser value for free . Offer valid from June 21-June 22, 2012 online only at www.thebodyshop.ca. Offer excludes: Brazil Nut & Satsuma Body Butter,mini items, gift cards, pre-made gifts, charity items and LOVE YOUR BODY™ membership cards.
Basically you will be paying for the 3 highest priced items and then the 3 lower priced or equal priced items will be free.  I love this sale because you can double what you get while keeping the price the same.  That means you can afford to get those higher priced items that you love but normally wouldn't be able to afford.
There is no need to use a coupon code to get this deal.  This sale does not happen that often maybe a few times a year because usually they have B3G2 free. Like I have said in the past, I like to wait for this sale on stock up on lotions and bath items that I might need throughout the year.  I also like to get a few extras because you never know when they might come in handy for a gift for someone.
The Body Shop Canada charges $5 for shipping when you spend $50 or more or you will get free shipping when you spend $75 or more.
(Expiry: 22nd June 2012)