The Body Shop Canada: B2G1 Free, B1G1 50% Off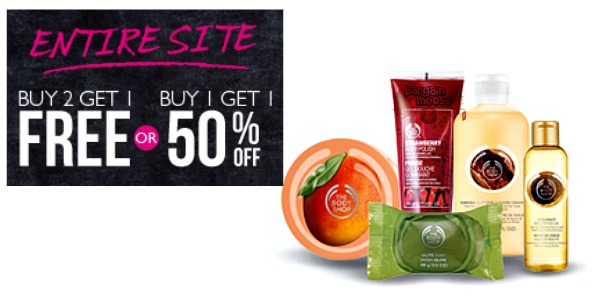 One of my favourtie deals is back on at The Body Shop Canada.  The entire store, both online and in stores, is buy two get one free or buy one get one 50% off. You will be able to get so many awesome deals with this store-wide sale!
Here is the fine print for this deal:
Offer excludes 200 ml Body Butter, Skin Care, Skin Care Starter Kits, Online Outlet items, charitable items, gift cards, LOVE YOUR BODY membership cards and pre-boxed gift sets. The Offer cannot be combined with any other offers, discounts or coupons, with the exception of the SPC and LOVE YOUR BOD  membership discounts
Basically, it includes all of the regular exceptions that The Body Shop Canada usually has. The reason those specific 200ml body butters are not included is that they are already on sale at 50% off the regular price, which is a great deal in itself!
If you are looking to stock up on bath and body items or maybe some makeup for back to school, this is the sale to do it with. I also like to take advantage of this sale to stock up on items that I can use as gifts for friends and family for holidays and birthdays.
As for the cost of shipping, it is free when you spend $75 or more, or pay a $5 fee on orders of $50 to $75.
(Expiry: 15th September 2013)