The Body Shop: B3G2 Free, B2G1 Free, or Buy 1 Get 1 50% Off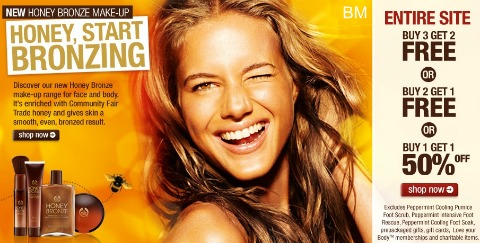 The Body Shop Canada has their famous buy 3 get 2 free, buy 2 get 1 free, or buy 1 get 1 50% off sale! This is off most everything online, do see website for the few exclusions (like prepackaged gifts). You can just get a ton of items during this sale, it is def. one of their best!
This sale includes their jumbo body butters. Jumbo body butters are a really great deal because you get 400ml for $25, where the size down is $18 for 200ml. So for an extra $7 you double the amount. I tried this sale out on the Coconut Jumbo Body Butter... and with it you can get 5 containers for only $75 (worth $125). You can mix and match of course, but that kind of deal is hard to beat!