Shoppers Drug Mart Canada: Save $5 On $25 Facebook Card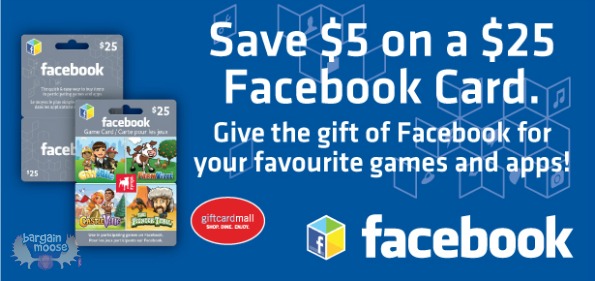 Starting today until Friday, you can get $5 off a Facebook card at Shoppers Drug Mart, essentially paying $20 for a $25 card.
The Facebook Card would make a great gift for a teen or anyone who loves playing games on Facebook, like Candy Crush, Farmville, and much more. You can use this card to buy credits for apps and games. Personally, I play Candy Crush too much. Many times it will give me the option to buy some credits for cheater items so that I can pass a level that is giving me way more stress than it is worth. I always decline. But, if I had one of these Facebook cards, I could do a little bit more. This is too tempting. Especially tempting is the fact that I will only pay $20, but get $25 in credits.
You will have to get this offer in-stores and there are limited quantities as well as no rain checks.
(Expiry: 27th September 2013)