Shoppers Drug Mart Canada: 20X Points Event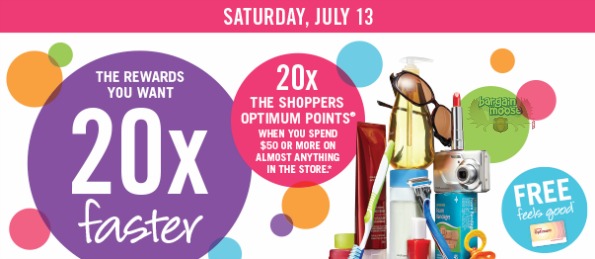 Shoppers Drug Mart is having another 20x the points event this weekend.  All day Saturday, you will get 20x the points on purchases of $50 or more.
Normally, you would get ten Shoppers Optimum points for every dollar you spend.  On Saturday, you will get 200 Shoppers Optimum points for every dollar you spend when you spend $50 or more.  That means, if you spend $50 (before taxes) you will get 10,000 Shoppers Optimum points for that purchase: 10, 0000 points is the equivalent to around $15 when you want to spend your points on a regular day, and even more on bonus redemption days.
There are some exclusions for this deal:
Excludes prescription purchases, products that contain codeine, non-pointable items, tobacco products (where applicable), lottery tickets, stamps, transit tickets and passes, event tickets, gift cards, prepaid card products and Shoppers Home Healthcare locations.
All of these exclusions are fairly normal for all of these events.
With these events, you can also use coupons.  You will get the 20x the points on the total amount spent before taxes and coupons.  Coupons are considered cash, so even if you have $20 in coupons, that total will be added in to get 20x the points. Some staff will try to tell you differently, but the actual register is what gives you the points, not the staff, so you will get the bonus points.
When events come around like this and I want to grab my extra points but don't really need a lot, I shop for items such as diapers, wipes, canned good and beauty products. Items like this I will always need even if I don't that week, and they won't go bad. Grabbing just two boxes of diapers gets me over the $50 minimum and diapers are something that I always need having two little boys.  It is a win/win situation!
(Expiry: 12th July 2013)