Shop More Save More @ The Body Shop Canada: Up To 50% Off!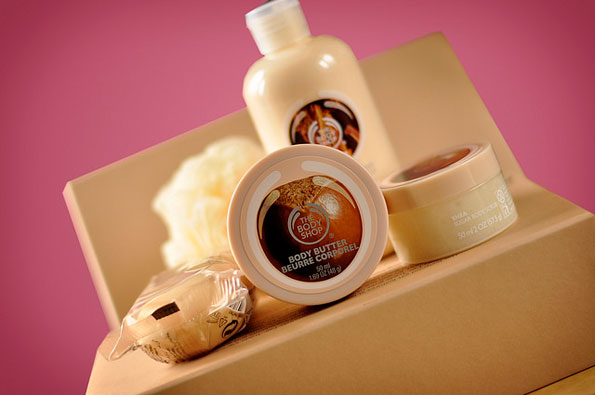 Oh The Body Shop, how I can't pass by your store at the mall without wanting to pass out from the million and one scents! This is where online shopping comes in handy, especially since you can save up to 50% off right now! Either save 30% on the purchase of 3 products, 40% when you get 4 items or as much as 50% with purchase of 5 or more products.
Although it's not site wide and has a couple of exclusions like outlet items, vitamin E aqua boost sorbet and a couple of other products, which you can read all about by clicking on "exclusions apply" under the promotion's banner on The Body Shop's site, there are still plenty of items to choose from. In fact, it's easy to tell which products qualify for the promotion because you will see the available offers under the "add to bag" button on each item's page.
With summer winding to a close, I'm sure that many of you could definitely use a calming facial lotion, especially after a bad sunburn! The aloe protective restoring mask sounds like it could definitely do the trick, especially with positive reviews like this one:
I use the Aloe Protective Restoring Mask once a week. It is perfect! I will wash my face before going to bed and then I apply this. I actually sleep in the mask and in the morning I rewash my face. The result is a perfect glow. The hydrating glow pretty much lasts all week.
It's usually priced at $22 but if you were to get 5 of these for example, then you would be looking at the following kind of prices per each product instead:
30% off with purchase of 3: $46.20 or $15.40 each
40% off with purchase of 4: $52.80 total or $13.20 each
50% of with purchase of 5: $55 total or $11 each
Although you can of course get 5 of the same items, you can also get 5 completely different items just as long as they qualify for the promotion, which most regularly-priced items are. In fact, I have been wanting to try the shea beautifying oil for some time now and surprisingly, it qualifies for the promotion even though it's already on sale for $9 (reg. $15), which means that you will save even more on it at checkout depending on the items in your shopping cart.
Orders that amount to less than $50 will incur a $7.95 flat shipping charge. If you shop for over $75, then that charge will instead be of $5 and if your order is over $75, then you will get free shipping.
(Image Credit: Tim Hoggarth)