Sears Canada: Free 7 Piece Gift with $36.50 Estee Lauder Purchase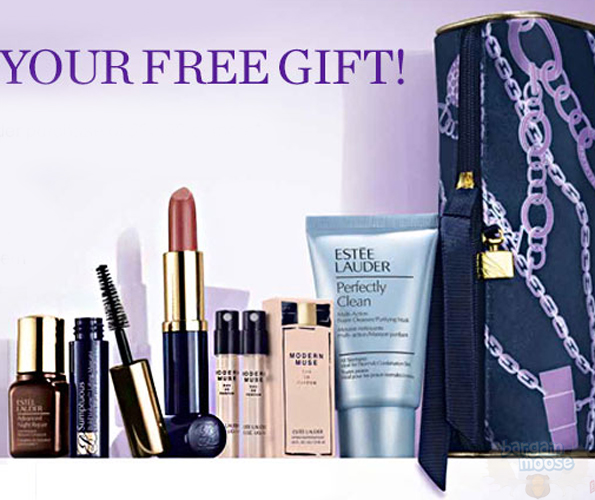 Sears Canada has another great deal happening in their beauty department and this time it is for Estee Lauder.  When you spend $36.50 or more on any Estee Lauder products, you will get a free seven piece gift with your order.
This free gift is valued at over $98 and comes with seven different items geared towards skin care and beauty. Actually, you will be able to pick your free gift.  You will have the option of the lifting and firming gift or the anti-wrinkle gift.
I am a fan of Estee Lauder's mascara and I wait for deals like this to buy it because I want to get the best bang for my buck. It is far more expensive than the average drug store mascara but it is totally worth it. The Sumptuous Extreme Lash Multiplying  Volume mascara is priced at $29 so this one product alone will almost get me to the minimum purchase or $36.50. You will also find it in waterproof if that is what you prefer.
There is a second deal if you end up spending $80 or more on your Estee Lauder purchases.  You will also get a free nail and lip set that is valued at over $45 bringing the grand total of free beauty gifts to just over $144.
This additional set includes:
Pure Color nail lacquer in black plum
Pure Color long lasting lipstick in candy
Dual-ended Pure Color gloss in Orchid Passion & Extravagant Pink
Mirror Compact
You will also get a little tip booklet that will help you have great looking nails and makeup ideas for day and night. Free gifts like these are the perfect way to try some new products without actually having to buy them. If you enjoy them, great!  If not, they were free anyways so no money lost on trying something new. If one of the colours of the free gift is not your taste, give it away to a friend or family member.
This great free gift deal is valid for one per customer and it is available both in stores and online.
As for the cost of shipping, you will be able to get free shipping for your order of $99 or more.
(Expiry: 29th September 2014)