Sales Cycles Get the Best Deals in November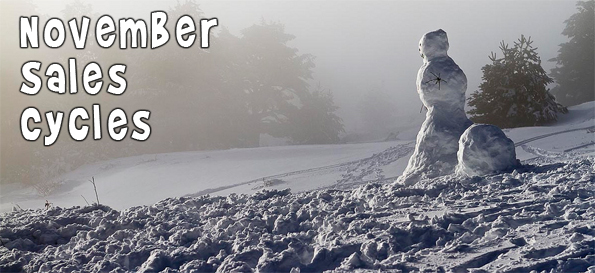 We are into the second last month of the year already, where has the year gone!? Starting November, stores will be fighting for your "Christmas present money" so you will be able to find some great deals.
Clothing- With a lot of holiday parties coming up, you will be able to find some great deals on dresses. These deals will happen all the way up until Christmas. You will also be able to find some great deals on fall clothing and shoes sales. Most people wear boots in the winter so shoes will be on at some great prices right now. Places like Little Burgundy & Cosset Shoes will have great deals and coupons out to save you some extra money.
Halloween- If you are looking for some great deals on Halloween items for next year this is the best time to pick them up. All Halloween Decorations will be on sale for a fraction of the price because stores will need to make room for Christmas decorations.
Beauty- A favorite Christmas gift for any women is beauty gift sets. This also make great gifts for teachers and friends as well and for this reason, November is a great time to get these items. There are so many beauty deals out right now I couldn't even list them all. We do a beauty deals roundup every week to help you keep your eye on what are the best deals are.
Food- Halloween candy is an obvious thing that will be going on sale but you will also find that baking items are very cheap. Pie crusts, flour, sugar and most baking items will be on sale this time of year.
Toys- With Christmas just around the corner, places that sell toys will be fighting for your business. You will find some great deals and coupons for toys for all ages. Places like Mastermind Toys and Toys R Us have some great deals on right now that are definitely worth checking out.
Before you head out to shop for anything in store or online, make sure to check out the coupon forum. We post coupons, both printable and codes, daily for you to take advantage of.
These are some of the great sales to look out for in the month of November. What other deals do you like getting in November?
(Image Credit: Javier)